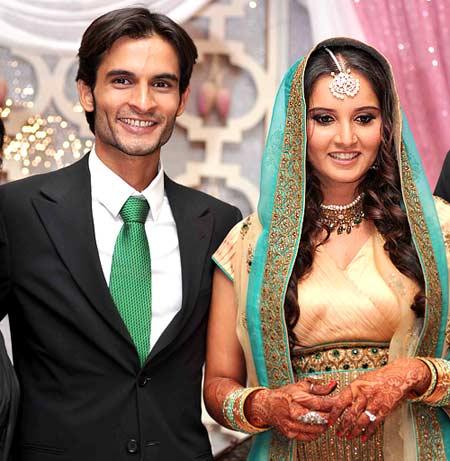 Hyderabad:
Tennis star
Sania Mirza
found her match in childhood
friend Sohrab Mirza as the two exchanged rings at an engagement ceremony held on Friday night.
The 22-year-old tennis star exchanged rings with Sohrab, 23, an MBA student and son of a city-based businessman. The ceremony was held at a star hotel amid tight security and was attended by relatives and close friends of the two families.
The guests included badminton player P Gopichand, Union Minister of State for Human Resource
D Purandareswari
, her husband and legislator D Venkateshawara Rao, Telugu film actor Vishnu and industrialist G V K Reddy.
Elaborate security arrangements were made for the function in the backdrop of the arrest of two youths, who created a nuisance at Sania's house during the last two days, claiming that they were in love with her and demanding that her family cancel the engagement.
About 50 policemen were posted around the hotel and even mediapersons were not allowed into the hotel. Dozens of photographers and camera persons of various regional and national television channels were standing at the gates.
Accompanied by her parents Imran Mirza and Naseema Mirza and younger sister Anam, the tennis sensation reached the hotel around 6 p.m.
Earlier, Imran told the media at his residence to respect their privacy. "Kindly cooperate with us. This is a simple and private ceremony," he said.
Keep watching us we will provide photos of the event.