Latest Update on 2021 Khatron Ke Khiladi 11:
Winner: Arjun Bijlani bags the trophy, takes home prize money of Rs 20 lakh and a car

After weeks of thrilling, spine-tingling and daredevil performances and a few emotional moments too, Khatron Ke Khiladi 11 has come to an end.

Arjun Bijlani, who was hailed as one of the strongest contenders of Khatron Ke Khiladi 11, has emerged as the winner of the season. The stunt-based reality show that entertained the audience with its daredevil stunts has come to an end with the actor lifting the coveted trophy.

Who is Arjun Bijlani: Known for his performances in Miley Jab Hum Tum, Naagin and many others, the actor performed exceptionally well throughout the season. Besides his stunt performances, Arjun entertained the audience with his witty comic acts during the episodes.

Runners-up: He was pitted against Divyanka Tripathi and Vishal Aditya Singh on the finale day.
Prize Money: Along with the Khatron Ke Khiladi 11 trophy, Arjun took home prize money of Rs 20 lakh and a brand new car. Designed for the culmination of the season.
Finale Task was a combination of height, speed, depth and dexterity. It was a stunt that tested the contestants' strength, determination and will-power, Arjun proved to be an ultimate performer. However, his contender Divyanka gave him a head-to-head and cutthroat competition. Vishal, who was one amongst the 3 finalists, got out of the finale race after he aborted the finale stunt. While Arjun aced the stunt to become the winner of the 11th season of Khatron Ke Khiladi, he was ahead of Divyanka only by 20 seconds. Talking about the winner announcement, the build up of the big moment was as nail biting as ever. And the culmination of the season was as huge as its beginning. With its high octane entertainment and adventure, Khatron Ke Khiladi 11 became the number 1 non-fiction show on TV once again this year.
Post Winning Interview: "It feels amazing. Itne shock khaaye hain maine aur itni mehnat ki hai show par. During the finale stunt, I kept telling myself, 'This is it. You have reached this far and now it's a do-or-die situation. Just go and give it your all'. That's exactly what I did... I gave the show my all."
"It's always good to be an underdog. Varun (Sood) and Vishal (Aditya Singh) became like brothers on the show, so, they obviously took each other's name every time they were asked to name the strongest competitor. But Divyanka was definitely a big surprise package for everybody. I always took her name whenever I was asked to name the strongest contestant. Kudos to her for performing stunts after stunts so well. However, only one person wins in a game like KKK. The winner isn't decided on the basis of his/her performance throughout the season, but in that particular stunt. In the final stunt, I was a little faster than her. It's just that!"

"Winning or losing really didn't matter once I was in the finale. Of course, winning the trophy is like the icing on the cake, but what I am taking back home is a great experience, a once-in-a-lifetime opportunity I got and I am glad that I was there till the finale because of which I ended up doing the maximum number of stunts. The finale stunt was like the climax of a film," he says.
The actor says that after his stint on KKK, he is better prepared to face challenges and fears in his life. "As human beings, we are skeptical about a lot of things and such experiences make you confident about facing them. I think I can face anything now. Another lesson I have learnt during the course of the show is that we tend to give up assuming that we have reached our threshold. We feel that we can't push ourselves physically any further. But this show teaches you to push yourself more than you think you can. Limitations are just in your mind," he concludes.
While Arjun's fans are celebrating his win, Divyanka's fans are not convinced with the results. After the winner announcement, many of her fans took to social media and expressed their disagreement with the former's win.
Divyanka's fans took to Twitter and expressed their outrage over Arjun's win. While some have called it a 'fixed win', few others have called him 'undeserving' too.
Latest Update:
Khatron Ke Khiladi 11: Arjun Bijlani returns home to a cute welcome from wife Neha and son Ayaan after completing his quarantine period.

Actor Arjun Bijlani, will fly to Cape Town soon for the shoot of the stunt-based reality show "Khatron Ke Khiladi 11", and he says it's not easy to leave his family behind in such unprecedented times.
"As they say, the show must go on! Leaving my family behind in such unprecedented times for Khatron Ke Khiladi is indeed an arduous task. I am feeling all sort of emotions right now. I am a little anxious looking around at the crisis, at the same time excited to embark on this adventurous journey, and more than anything, worried about my family. They, too, are upset about me leaving, which makes it even harder," he told IANS.
Winner or Loser:
"This year, it is not about winning or losing; it is more about keeping our spirits high and moving forward. I sincerely believe that each participant this year is a winner because this is a situation like no other. At this moment, the energy to pull yourself out of the dark zone and all the negativity for the show is commendable on everyone's part," he says.
He adds: "I am looking forward to the show and leaving on May 7."
Exclusive! Want to know why Arjun Bijlani is not hosting Dance Deewane this year?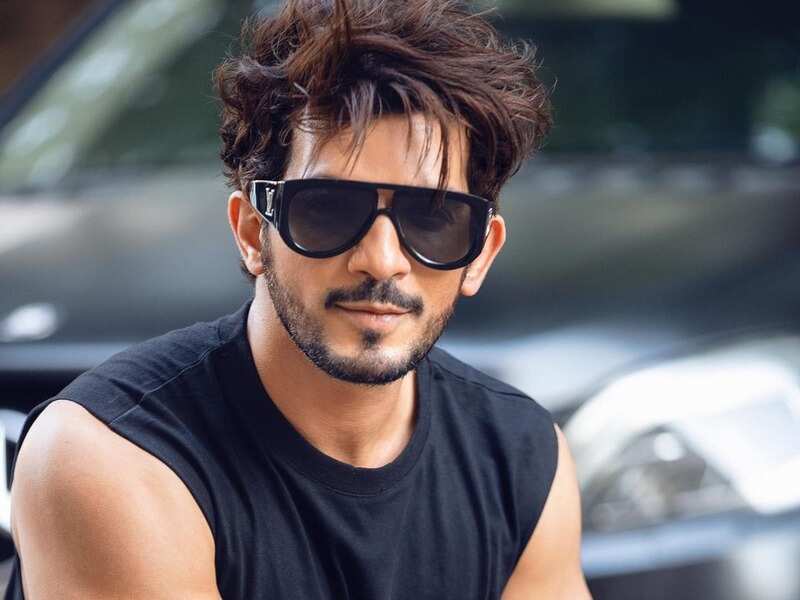 2021 Fear Factor Khatron Ke Khiladi 11 Contestants Age & Salary per episode @ https://www.youtube.com/watch?v=LKsR3K44US8

Another contestant who will fly to Cape Town to participate in Khatron Ke Khiladi is Arjun Bijlani
. In an exclusive chat with us, he revealed that he is excited and nervous both as he gets ready for the reality show.
Talking about reality shows, Arjun Bijlani,
who hosted Dance Deewane in the past, is missing from the show this year
. Ask him about that and he says,
Quote:
"It's been quite some time now that they wanted me to do Khatron Ke Khiladi but my dates always clashed with Dance Deewane. So this year I am doing KKK instead."
Given the pandemic situation in the country, these are very difficult times, he says.
"Leaving my family behind is tough, but it's work and as they say, the show must go on. I am also trying to get vaccinated before I go and I hope that happens,
" says Arjun.
The Ishq Mein Marjawan actor earlier travelled to Goa to spend time with his family and also to prepare himself for the show since the situation in Goa was better than it was in Mumbai a while ago.
Quote:
"I wanted to be with my family away from the chaos so that I could have some quality time with them. I also worked out in the gym in the hotel where I stayed, but I couldn't execute my workout plan too well. There also I was very careful about how I do things," says Arjun.
Mental preparation is also equally important as this game tests one's mental ability too. He says, "I keep telling myself that everything will be alright. I am going there with a positive attitude."
But he is scared of the creepy crawlies and is worried about them going into his pants! "These crawlies moving on our body is gross. I am not sure how I'll react to that," laughs Arjun.
Arjun Bijlani
Born on 31 October 1982 (40 years old)
Indian television and film actor.
He is the recipient of several accolades including three Gold Awards, and has established himself as one of the leading stars in Hindi television industry.
Bijlani made his television debut with Ekta Kapoor's production Kartika that was broadcast on Hungama TV.
Subsequently he proved himself as a strong and talented leading star with his appearances in various well known shows like Left Right Left, Miley Jab Hum Tum, Meri Aashiqui Tum Se Hi, Naagin, Kavach, Pardes Mein Hai Mera Dil and Ishq Mein Marjawan.
On the non-fictional front, he participated in Jhalak Dikhhla Jaa 9 and hosted first two seasons of Dance Deewane.
Bijlani's first Bollywood film Direct Ishq was released in 2016
He also debuted into digital world in 2020 with ZEE5's web series State of Seize: 26/11.
Arjun Bijlani Instagram ID:
https://www.instagram.com/arjunbijlani/?hl=en
Arjun Bijlani Twitter ID:
https://twitter.com/Thearjunbijlani?...Ctwgr%5Eauthor
Arjun Bijlani Wikipedia Page:
https://en.wikipedia.org/wiki/Arjun_Bijlani
Arjun Bijlani Stars Unfolded Page:
https://starsunfolded.com/arjun-bijl...ht-weight-age/
Arjun Bijlani Imbd Page:
https://www.imdb.com/name/nm5012246/