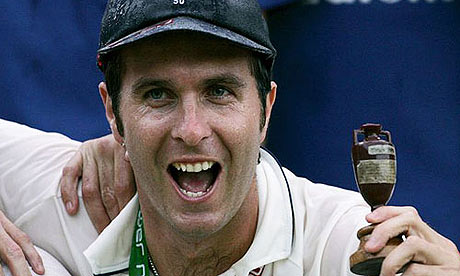 Michael Vaughan will be remembered as the man who captained England to an Ashes victory for the first time in 18 years. Photograph: Matt Dunham/AP
Michael Vaughan has announced his retirement from all forms of professional cricket with immediate effect.
In a statement this morning, the former England captain said: "After a great deal of consideration, I've decided that now is the right time to retire from cricket. It has been an enormous privilege to have played for and captained my country and this is one of the hardest decisions I have had to make.
"Having played almost non-stop for sixteen seasons, I feel that the time is right for the focus to shift to the next generation. We have some fantastic talent coming through the English counties and, with the next Ashes series upon us, now is the time for the younger players to rise to the challenge of building on the success achieved in English cricket in the last few years."
The 34-year-old went on to thank England and Yorskhire fans, the ECB, his family and all the players and coaches he has worked with.
Vaughan was hoping to be selected for England to play Australia in this summer's home Ashes series, but failed to score heavily enough for his county at the beginning of the season, and he acknowledged that fact in this morning's press conference at Edgbaston.
"I have not played well enough," he said. "I haven't had the rhythm or form to be picked for an Ashes squad. I don't think it would have been the right decision to put me in."
He wished his former team-mates well as they prepared to repeat the scenes of his greatest triumph, the series victory over Australia in 2005, when England recaptured the Ashes for the first time in 18 years, in a series believed by many to be the greatest of all time.
"I'd like to wish Andrew Strauss and the current England team success in this Ashes series," said Vaughan. "I know they have the drive, ambition and abilities to repeat the success from 2005. Winning that series was most definitely the high point of my career".
The former Yorkshire batsman was England's most successful Test captain of all time, with a record of 26 wins from 51 matches. As well as the Ashes win, he captained the side to a first Test series win in South Africa for forty years – also in 2005 – and presided over a record eight consecutive Test wins in 2004.
As a batsman, he scored 18 Test hundreds for England following his debut in 1999 and was ranked the No1 batsman in the world following the 2002-03 Ashes Series in Australia in which he made 633 runs including three centuries.
ECB chief executive David Collier said: "Everyone associated with cricket in England and Wales will be forever grateful to Michael Vaughan for his immense contribution to the England team's success. His achievement in leading England to victory against the No1 ranked team in the world, Australia in 2005, was arguably the finest by any England captain in the modern era."
England Cricket's managing director, Hugh Morris said: "As an international captain Michael ranks among the very best and the way in which he and Duncan Fletcher forged a team capable of winning six consecutive Test series stands as testament to his ability to inspire and motivate those around him.
"No one who saw his magnificent hundreds in Australia in 2002-03 will forget the contribution he made to the team as a batsman either – he will be rightly remembered as a player of the highest class."
England captain Andrew Strauss said: "I count Michael as a good friend as well as a team-mate and I know what a tough decision this will have been for him as he took so much pleasure and pride in representing his country. I learned a great deal from watching him captain the side for five years at close hand and his ability to identify a new strategy for outwitting the opposition or bring the best out of his own players was a priceless asset."