Sony TV's New Reality Show "Ghana Jungle" (Full Details)
---
Season 2 started in Tamil @
2021 Tamil Reality Show - Survivor Latest Updates, Participants, Contestants, Winner, Spoiler, Elimination
Season 1 Full Details
The first season of Miditech's Iss Jungle Se Mujhe Bachao, in which 10 celebrities roughed it out in the insects-and-everything-that-moves-infested Malaysian jungles, received a lukewarm response from the viewers.

The show never succeeded in generating the expected viewership even after the makers tried to up their 'oomph' quotient as primetime primadonnas were seen in two-piece something gyrating under a waterfall! Season 1 Full Details
ABOUT the show:
Iss Jungle Se Mujhe Bachao premiered on 13 July 2009 on Sony Entertainment Television (India). It was the first and only Indian series based on British reality game show I'm a Celebrity...Get Me Out of Here!

The winner of the show was Mona Wasu, who earned prize money of 10 million INR.
Format, Concept:
The show is licensed from ITV's format, I'm a Celebrity...Get Me out of Here!. The basic concept is the same, where a group of celebrities have to survive in a jungle camp without any amenities, and must compete with each other to stay on in the show.
Every contestant gets a handful of rice and some soybean or lentils for food every three days, which is clearly not enough for survival. Therefore, they must participate in various physically challenging contests and win "food credits" for themselves and their team members. Each day, the team must nominate one participant to play in the day's contest and be the bread-winner for that day.
At the end of every week, the contestant with the fewest public votes and the contestant with the most elimination nominations from the participants face off in an elimination task called the "Maha Jungle Challenge". The winner of this challenge gets to stay back while the loser is eliminated from the game. The audience can vote for their favorite participants via phone calls or SMS.
Host:
HOST: Yudishtir or Yudi, who became a household name as a Channel [V] VJ, has also presented shows such as Men Mange More and BBC Wheels. He loves cinema and theatre, and has acted in the films Chowky and Raffu Chakkar. He enjoys boxing, riding, racing cars, bikes and observing people.
HOST: Mini Mathur has long charmed TV audiences with her sparkling smile, as an actress and an anchor. She has hosted the Indian Idol 1, 2 and 3 and has become synonymous with the show. She also presented Popcorn, Tol Mol Ke Bol and Yeh Shaam Mastani. Mini enjoys scuba diving, adventure sports and exploring new destinations.
Contestants:
Aakashh Deep Saigal is most famous for playing Ansh Gujral in Kyunki Saas Bhi Kabhi Bahu Thi; he also found success in Kuchh Is Tara and Comedy Circus 2. A former state-level footballer, a sound engineer and a documentary filmmaker, this achiever has also won the title of 'Supermodel of the year' at the Gladrags Manhunt Contest.
Aman Yatan Verma is one of Indian TV's darlings. He has starred in some of Indian TV's most famous shows - Shanti, Kyunki Saas Bhi Kabhi Bahu Thi, Devi, Mahabharat Part 2, Dushman and Sujata - and has hosted Dial Aur Jeeto, Indian Idol 1 & 2 and Khulja Sim Sim. He has also acted in the films Baghban, Babul and Andaaz. He is participating in the show because: "I was bored with what was happening and wanted to rediscover myself."
Anaida made an impact years ago as much for her dancing s****s as her vocal s****s. Her single Hotline, was a big hit, which she followed with Hoo Halla Hoo, the first animated video to be produced in India for the movie The Lion King. She was also the first to sing an English song, used in the film Bombay Boys. A little-known fact is that Anaida is also a painter.
Chetan Hansraj started off modelling, being blessed with an enviable physique and striking looks. The six-footer did 200-odd commercials as a kid and was also a state-level water polo player. Chetan is best-known for his portrayal of Sasha in the Indian daily soap Kahaani Ghar Ghar Kii. He has also acted in Kkusum, Kajal Sabki Aankhon Mein Bassi and Prithviraj Chauhan and has dabbled in movies as well.
Fiza, originally named Anuradha Bali, made headlines for her controversial marriage to Mohammed Chand, former deputy chief minister of Haryana, earlier this year. The subsequent divorce was also under media scrutiny. Fiza intends to make a fresh start on the show, and will also be seen in the movie Desh Drohi II, which is based on the Mumbai terror attacks.
IshQ Bector is a singer, songwriter, producer, entrepreneur and a poet. The hip hop artist has written, produced and sung songs for Ugly Aur Pagli, Maan Gaye Mugal-E-Azam and Race. He has also performed with Rishi Rich and acted in the movie Barsaat.
Marc Robinson, the heartthrob of an entire generation, was one of India's top male models, and also acted in the movie Bada Din opposite Shabana Azmi. He has since worked as a model coordinator and choreographer for fashion shows and other events. Married to fellow model Waluscha D'Souza and the father of three kids, he is a die-hard fan of Robert De Niro and claims to have seen Taxi Driver more than 20 times.
Mona Vasu came into acting via the traditional route. She studied the craft at the National School Drama in Delhi and gradually began doing commercials and a travel show. The turning point came when she was offered the lead role of Millie and later moved to Radha Ki Betiyaan Kuch Kar Dikhayengi. Fond of books and good company, she is putting herself through this for the thrill of it.
Palak aka Gurmet Kaur has sung the Punjabi verse in the song Bhoothni Ke from the film Singh Is King, but is better known for her catfights on the show Roadies. This 19-year-old is from Chandigarh and will be soon seen in the film Kissan. She calls herself bindaas and a fighter.
Shweta Tiwari, once a stage actress, became a national favourite as the lovable Prerna, in the popular daily soap Kasautii Zindagi Kay. Her TV career started with a role in Lakeerein, and was followed by meatier roles in Aane Waala Pal, Karam, Kasautii Zindagi Kay, Kya Hadsa Kya Haqueeqat, Kahin Kissi Roz and Jaane Kya Baat Hui. She was most recently seen hosting Jhalak Dikhla Jaa 3.
Season 1:
Ten Indian celebrities were chosen to participate in the only season. They were flown to Taman Negara in the rain-forests of Malaysia, where they had to stay in the jungle in an outdoor camp with little or no luxury amenities. Every contestant was allowed to carry any two luxury items of their choice, which they had to specify before the contest began. The ten celebrities were often divided into different sub-groups and made to compete among themselves every week.
In the second week, 8 contestants out of 10 staged a walk out from the show as Akashdeep Saighal got bitten by bugs and worms while doing a task. The two contestants who decided to stay back were, Palak Kaur Johal and Fiza Chand Mohammed.
SEASON 2:
2021 Tamil Reality Show - Survivor Latest Updates, Participants, Contestants, Winner, Spoiler, Elimination
The show came and went without a whimper and now the g****vine has it the channel might bring back its second season, which is expected to be a better version of the inaugural season.
A celebrity participant from the first season says, "We have been hearing this for quite some time that Iss Jungle… will come back with its second season. Last I heard was that the shoot will take place in Andhra Pradesh or Australia, if it takes place abroad."
A source from the first season, "I really doubt if the channel will bring back the second season as they suffered huge losses on the first one. Even if the show has to come back it will be shot in Australia or they will go back to Malaysia. They hold a two year contract with the Malaysian government and as far as Australia goes, all the six to seven seasons of the international show 'I'm a celebrity get me out of here' were shot there. The show if returns, has remote chances of going back to Miditech as there were major hiccups in the first season. The celebrities who later joined the show were sent to the jungle in a hurry and nothing was planned. The crew of the show too wasn't qualified enough to work on such a show. If the channel plans a second season it will go to some other production house."
We sent a text message to Nivedith Alva, Miditech Pvt. Ltd., about the probable return of Iss jungle and if they will will produce it. He replied saying, "No comment."
Danish Khan, Marketing Head Sony Entertainment Television, said, "I haven't heard of anything like this."
Voting lines:
In a bid to be crowned King or Queen of the Jungle, the contestants have to survive on meagre rations, perform dangerous tasks, live with creepy-crawlies, and face the wild, all under 24/7 camera scrutiny. Every day - Monday to Thursday - one celebrity takes the dreaded Jungle Challenge, which involves overcoming a fear and collecting 'stars'. The number of stars collected determines how much food the camp gets for the night. Contestants also have to find the Celebrity Chest, and the one who does gets the Jannat.
The phone lines are open Monday through Thursday until 12.00 pm, for viewers to vote for their favorites. The results are revealed on Friday, and the two celebrities with the least votes will have to go through the Maha Jungle Challenge for a chance to stay back.
According to Gurdip Bhangoo, programming head of Sony Entertainment Television, "The series has been well-received by audiences internationally and we are sure that the innovative concept will keep viewers on the edge of their seats." ITV's I'm A Celebrity…Get Me Out Of Here! has been the No. 1 show in the UK, USA, Germany and Hungary.
Starting July 13, 2009, watch these famous celebs struggle for survival.
Tag:
iss jungle se mujhe bachao negar khan, iss jungle se mujhe bachao watch online, iss jungle se mujhe bachao winner, iss jungle se mujhe bachao hot videos, iss jungle se mujhe bachao contestants, iss jungle se mujhe bachao anaida,iss jungle se mujhe bachao wiki,iss jungle se mujhe bachao torrent, iss jungle se mujhe bachao grand finale, iss jungle se mujhe bachao bathing scenes.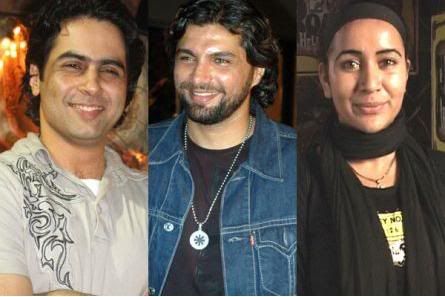 Before Launch :
It's only nine days left to the launch of Sony's next reality show Iss Jungle Se…….and here are another three contestants' names who have reached the ghana jungle of Malaysia. Apart from Shweta Tiwari, Mouli Ganguly and Fiza, it's Kahaani Ghar Ghar Ki's bad boy Chetan Hansraj, MTV Roadies 6.0's contestant Palak and television's all time favourite Aman Verma who will be screaming Iss jungle Se Mujhe Bachao.
A source disclosed, "The shoot has begun since the launch date is July 6. The show has some very good contestants who will do full justice to the breath taking tasks given to them. Chetan Hansraj has started shooting for the show along with Aman Verma and MTV contestant Palak."
Further the source added, "Fiza Chand Mohammad has also reached Malaysia and is very friendly with Shweta Tiwari
and Mouli Ganguly. Apart from Simone Singh, Karan Singh Grover and Amit Sana the channel had also
approached Chak De India actress Vidya Malvade but she also refused to be a part of the show."
Before Launch:
Ten celebrities deep down in the jungles of Malaysia working on given tasks to survive in the show!!
Yes, this will be the concept of Sony's upcoming reality show tentatively titled 'Ghana Jungle', produced by Miditech.
According to our source, "The concept of the show will be basically a combination of Fear Factor and Bigg Boss. The entire crew will be flying to Malaysia later this month, and the show will be shot in the thick jungles out there. There will be ten celebrities in total who will be given various adventurous tasks to perform which will enable them to stay on in the contest. The crew will stay put in Malaysia for nearly two months".
If sources are to be believed, Shweta Tiwariwho was seen hosting Sony's Jhalak Dikhhla Jaa has been approached to take part in the show. "Though no names of celebrities have been finalized, Shweta Tiwari and Mouli Ganguly have been approached for the same".
We tried calling Shweta Tiwari, but she remained unavailable for comments. Mouli Ganguly refused to be part of such a show. We tried calling Gurdip Bhangoo, Programming Head, Sony Entertainment Television but he was busy.