OPPO A53s 5G set to reshape the budget segment with the most affordable 5G smartphone yet with powerful 6GB RAM!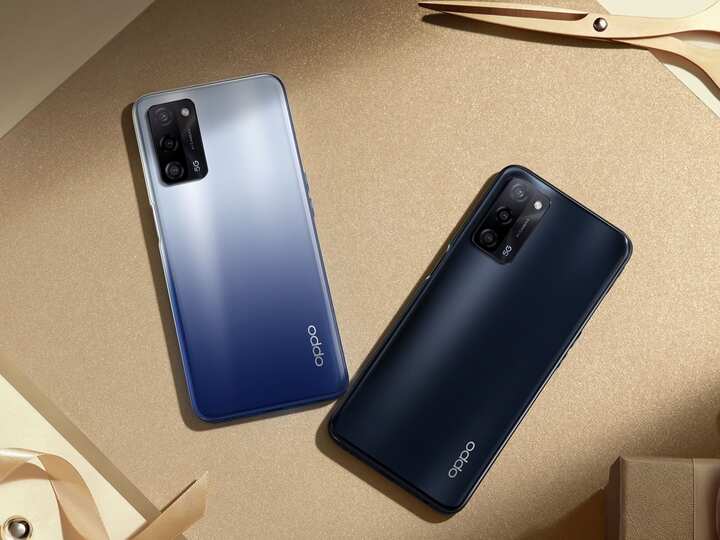 In smartphone verse, every major player wants to capitalize on the 'next big thing'. But not everyone is able to pick up the right pieces. While R&D on the device itself is a must, at the same time, it is also very important to keep an eye on what the future holds. 5G has been touted as the future of connectivity, with India on the verge of witnessing a connected future very soon. Even though 5G could be just 'months' away from deployment in India, there's already a tsunami of 5G powered smartphones in India. What's interesting is that a large number of people in India are opting for devices that have 5G. As per a CMR report, 83% of buyers in India consider 5G as a top feature when choosing a new smartphone. With a promise of super-fast internet speeds and extremely low latency, 5G can very well change the way we live our lives.
But for early mass adoption, 5G smartphones should be affordable. So far, only the flagship phones wore the '5G' badge proudly. The need of the hour is to bring 5G enabled devices to the masses with features that offer the best of tech. Thankfully, there's a brand that is working towards bringing 5G enabled devices for the masses. And that brand is OPPO and the solid proof of its working is OPPO A53s 5G- the most affordable 5G smartphone with a price tag under 15k! The OPPO A53s 5G is priced at Rs. 14990 for the 6GB/128GB variant and Rs. 16990 for the 8GB/128GB variant.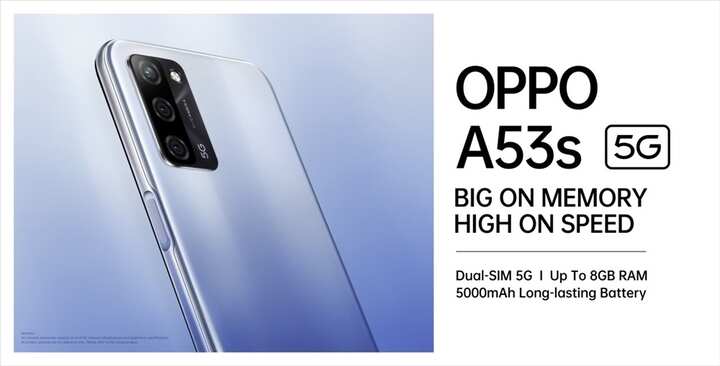 But why do we see such innovation from OPPO? Well, for starters, OPPO has been in the Indian smartphone arena for long to understand what the masses really want from their smartphones. For more than a year now, OPPO has been pushing 5G powered smartphones in India. In fact, earlier this year, OPPO launched the Reno5 Pro 5G and last month, launched another 5G device called the OPPO F19 Pro+ 5G. Both smartphones have received a stupendous reception in the Indian market.
Recently OPPO also launched A74 5G making it a first of its kind device in the budget segment. This was followed up with the latest OPPO A53s 5G which carries the 5G legacy forward. OPPO A53s 5G is not only the sleekest 5G device out there but also offers a variety of functional features with top-notch specifications, all paired with 5G capabilities and for a price that makes it a lucrative deal.
We dig deep to see what makes the OPPO A53s 5G the sleekest & the most affordable 5G device in India.
One of the most Affordable 5G device with 6GB RAM and MediaTek's Dimensity 700 Dual-Sim 5G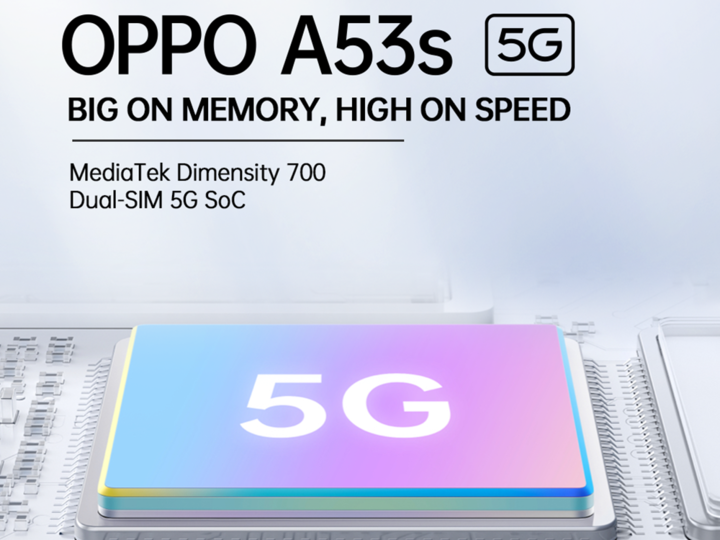 Now, 5G being the headlining feature, OPPO does some serious muscle-flexing with A53s 5G. Being a pioneer, OPPO A53s 5G comes with MediaTek's Dimensity 700 Dual-Sim 5G. The CPU runs on two A76 big cores that operate at up to 2.2 GHz, along with six A55 cores that operate at up to 2.0 GHz. What makes OPPO A53s 5G special is the Dual SIM Dual Standby (5G) mode, which means that the device is capable of two 5G SIM cards at once. Apart from this, OPPO A53s 5G has Smart antenna switch technology, which ensures a strong cellular reception no matter how the phone is held. Now 5G is not yet rolled in India but the future-ready capabilities of the phone make it a front runner in the affordable segment.
Stylish & Ergonomic Design: The sleekest 5G device available in the market right now!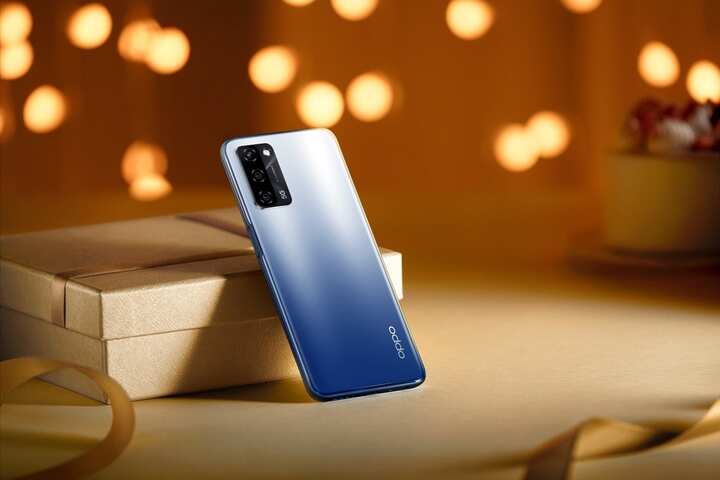 Despite packing a large 5000mAh battery, OPPO A53s 5G is light and thin and measures only about 8.4mm and weighs about 189.6g making it the sleekest 5G device in the market right now. And it's not just about numbers & dimensions but the in-hand feel that also matters. So, OPPO engineers designed the A53s 5G with an ergonomic design that truly offers a great feel in your hands. With rounded edges, the phone is smooth to touch while the camera module is placed in a way that looks aesthetically pleasing.
Keeping the ergonomics in mind, OPPO A53s 5G has a side-mounted fingerprint scanner that makes it easier to unlock the phone every time you pick it up. This OPPO offering comes with two beautiful colour options - Crystal Blue and Ink Black.
Abundance of RAM and Storage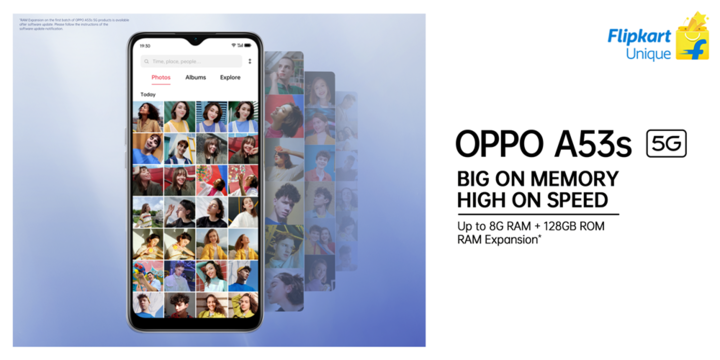 Now, it matters what's inside the OPPO A53s 5G, and the phone boasts of it proudly. For starters, the smartphone has an internal storage capacity of up to 128GB paired with 6/8GB RAM. But, if you want to increase the storage capacity, there's a dedicated slot for a microSD card that takes storage to 1 TB. Now with such a huge storage option, you can store all your favourite movies & music offline or have an entire library of games on your phone.
And when it comes to RAM management, the A53s 5G is a true winner. As seen on high-end OPPO devices, the A53s 5G has RAM Expansion Technology. This means that the device is able to free up available RAM by temporarily moving low-frequency apps in the background to ROM space. This gives a lag-free experience of using the phone. With this, you can do multitasking with ease as bigger & heavier apps stay up for long due to smart RAM management. Another benefit of this technology is that you can go through several apps with ease.
Bigg 5000mAh Battery!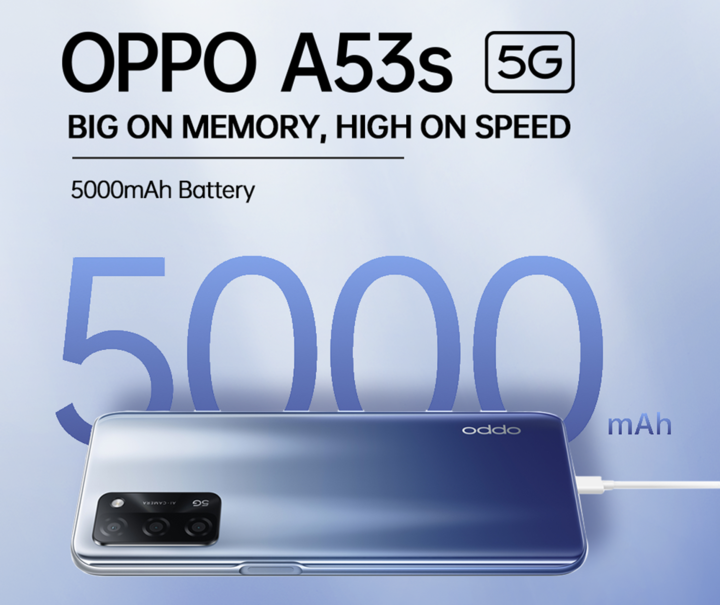 A smartphone is good so long as it is on. Once the battery dies out, it's nothing more than a glass & metal sandwich. Keeping our ever-growing dependency on smartphones in mind, OPPO has loaded the A53s 5G with a massive 5000mAh battery. With a battery this big, OPPO A53s 5G can last an entire day without the need for an additional charge. In fact, OPPO claims that the A53s 5G can go up to 38.74 hours of phone calls or 17.74 hours of video playback on a single charge. There's Super Power Saving Mode & SuperNighttime Standby that improves the battery performance. With such impressive battery features baked into the device, the overall experience of using the smartphone increases. And having a dependable battery allows you to rely on the smartphone especially when you are nowhere near a charging point.

A crystal clear screen that cares!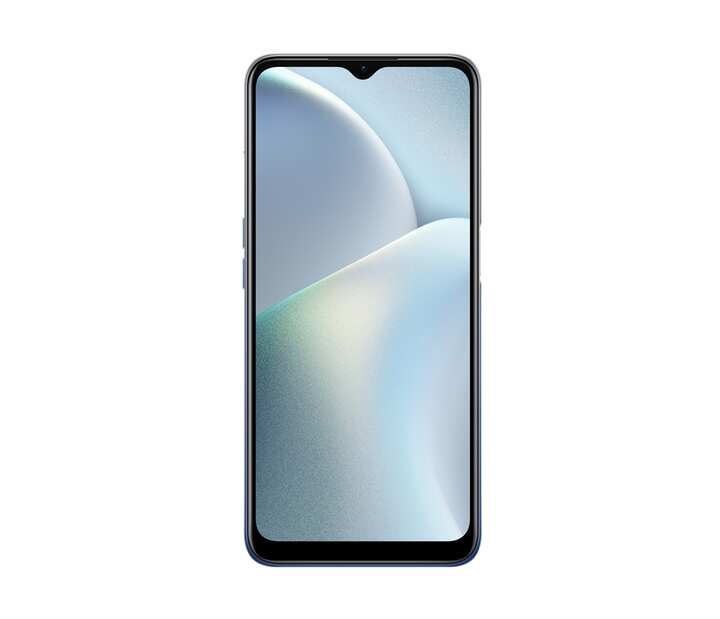 On the front of OPPO A53s 5G, there's a massive 6.52-inch (16.55cm) WaterdropScreen that has a huge 88.7% screen-to-body ratio. The display on the OPPO A53s 5G has a high level of colour saturation & pops out realistic colours while watching videos. What makes this display, a caring one is the All-Day AI Eye Comfort. The display on OPPO A53s 5G will adjust the brightness and preserve the colours and viewing experience. Even under bright or sunlit conditions, OPPO A53s 5G makes sure that the screen doesn't wash out colours, but rather manages to preserve and display the content's true colours.
A versatile camera experience!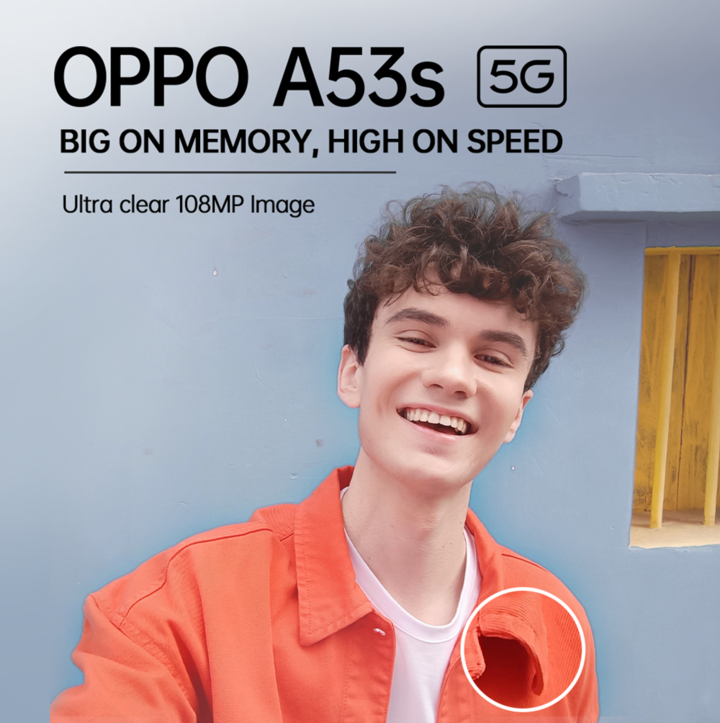 OPPO A53s 5G has a triple rear camera set-up that has a 13MP primary sensor with a dedicated 2MPportrait sensor and a 2MP macro sensor. The main sensor on its own can shoot brilliant pictures, but the 'Extra HD' feature opens a whole new realm of photography. The 13MP sensor is capable of shooting Ultra Clear 108MP Images that can ensure that each shot is clear. All you need to do is turn on the Extra HD feature in the Camera app and take a photo and the OPPO A53s 5G can reconstruct the pixels into a highly detailed 108MB image that you can even zoom into. There's a dedicated portrait mode that adds an impressive bokeh effect to your pictures.
The OPPO A53s 5G adds a flair to your photography with AI Scene Recognition that captures dazzling scenic photos by combining both AI Scene Recognition and Dazzle Color. Adding to this is the Ultra Night Mode, which significantly improves pictures shot in low light.
On the front, there's an 8MP selfie shooter that has AI Beautification which ensures that everyone in the shot is looking their natural best, and features delicate and natural-looking beautification effects that will make your face look just right.
OPPO A53s 5G has a price tag that'll be a testament to the affordable 5G smartphone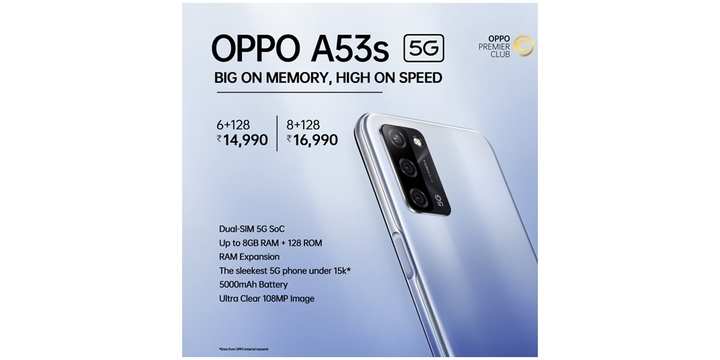 Yes, 5G is just around the corner, but the actual mass adoption of the technology will happen only when masses have a 5G device. And with A53s 5G, OPPO aims to give every Indian a 5G smartphone.
With the long list of useful features be it a superfast 5G-capable processor or the compact & sleek design, the OPPO A53s 5G makes a compelling statement for itself. Now, paired this with impressive RAM management & an unbeatable battery performance and a price tag that makes OPPO A53s 5G a future proof – you simply cannot miss this one.
The smartphone has all the attributes of being a hit among the masses considering it is the sleekest 5G device & the most affordable 5G smartphone in the market. This smartphone packs all the punch to possibly mark the beginning of affordable 5G smartphones in India. The smartphone will be available on Flipkart and mainline retail outlets from May 02 2021 at a starting price of Rs. 14,990 for the 6GB/128GB variant and Rs. 16,990 for the 8GB/128GB variant.
To know more about OPPO A53s 5G, click here.
OPPO is offering some attractive offers for both offline and online channels when you purchase the A53s 5G
Mainline Retail Outlet Offers
• If you buy the device through a retail outlet, then you can avail 5% cashback from the leading back partners – HDFC Bank, Standard Chartered, Kotak Bank, Bank of Baroda and Federal Bank.
• OPPO is also offering zero down payment schemes from its finance partners and No cost EMI of up to 6months with 1 year of extended warranty.
• Customers paying via Paytm will receive 11% cashback.
Flipkart Offers
• Customers ordering online through Flipkart can avail of a flat Rs 1250 instant discount on HDFC Bank cards and Credit Card EMI transactions, 2 Years Warranty (1 year extended), up to 70% buy-back @ Re. 1, no-cost EMI up to 9 months.
• Existing OPPO Customers can also upgrade their OPPO phone and get Rs 1500 additional exchange discount.

Disclaimer: This is a brand post and has been written by Times Internet's Spotlight team.