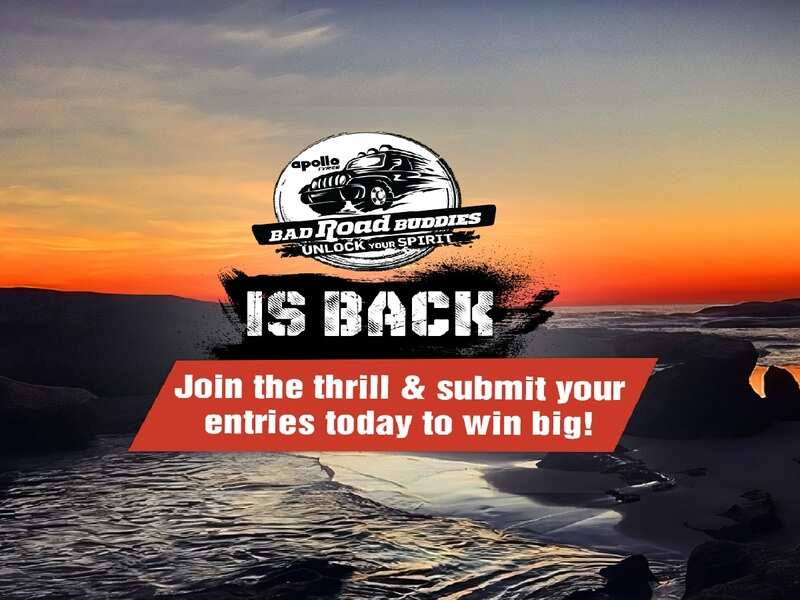 Haven't we all related with Bunny when he said he wants to fly, run, fall down, but never stop, in Yeh Jawani Hai Deewani? When the last year brought a stillness to life and travel, we wondered if we will ever be able to step out again, if we will be able to take the open road - answer its beckoning, drive at night to communicate with lights, and look at life through the windshield. But here we are - chasing mighty hills, strolling away at sea shores, discovering places we never knew existed. Because all beautiful destinations have one thing in common - roads, which are often bad.
Celebrating this nomadic spirit of humans is the Bad Road Buddies Season 2.0 contest, powered by Apollo Apterra tyres, that is urging off-roaders to convert stones on the road into milestones. It is a social media contest where travellers who love to map uncharted paths can upload their videos and images and win exciting prizes. All you need is a car or a bike, and a bountiful love for travel. So, once you set out for an adrenaline rush, keep documenting your trip through videos and images on five basic 'go the distance' themes:
1. Snow Driver- The contestants shall be driving in the snow, surpassing some of the most difficult terrains to steer on.
2. Photo journaling- Another theme is only about focusing on the best capturing of locations, moments and feelings.
3. CSR- This theme is about giving back. Simple acts of kindness on the roads. It's about making a difference, big or small!
4. Vlog- The memories of an incredible journey will last a lifetime. And what better way to share those memories than making a vlog? Video journaling is easy and effortless, and here's your chance to prove it.
5. Hidden Eateries- Travelling is incomplete without good food, and the best are mostly hidden or unexplored, this is the chance to find such hidden gems and win prizes.
Here's everything you need to know about the contest that is already up and running:
Upload your entries on the social channels of Apollo Tyres - Facebook, Instagram, and Twitter. Based on the engagement (Likes/Comments/Shares) received on your contest entry, you will be eligible for the next phase, which would be selected by the BRB Panel, i.e., Apollo Tyres management.
The shortlisted entries (that have garnered most engagement) will be placed in front of the Jury panel from Apollo Tyres. These will then be uploaded on the microsite. Remember, the total number of likes for static images & the total number of views for a video will be the defining metric to calculate & choose the entries. So, keep your entries as gutsy as you can.
The top 40 selected entries will be uploaded on the ApolloTyres Bad Road Buddies website. You can ask friends & family to vote for your entry on the website to increase your chances of winning the Grand Prize - a Royal Enfield Meteor 350!
Top 10 will then be chosen based on maximum votes, and they will go further to compete but only one shall win.
Bad Road Buddies 2.0 is already getting humongous numbers of entries and you don't want to waste any more time because it closes on April 30th. Here's a jist of what to do:
1) Register on
http://www.badroadbuddies.com
2) Upload your travel pictures/videos on any (or all) of the 5 themes
3) Tell the world about your journey in the caption
4) Tag @apollotyresltd
5) Use #BadRoadBuddies
That's about it Bad Road Buddies! Fasten your seatbelts and join fellow BRBs in this road to adventure because all you need is a wheel in your hands and four on the road.
Disclaimer: This article had been produced on behalf of Apollo Tyres by Times Internet's Spotlight team.

Source
https://www.wikinewforum.com/showthread.php?t=415737