10-07-2017, 04:38 AM
Member

Join Date: Dec 2008

Location: India

Posts: 81,291
Easy-To-Make Karanji Recipe
---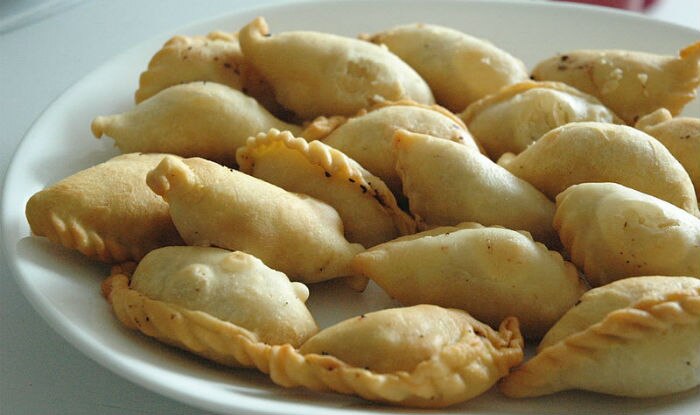 Diwali is just around the corner and it is yet again that time of the year when we will share with you some awesome recipes for Diwali this year. Since Diwali is not just about firecrackers and wearing new clothes, but is also a lot about preparing some delicious delicacies, we thought some recipes will surely come handy to you. Now when we mention Diwali and snacks, there is a lot that comes in our minds. From chivda to laddoo and karanji. every Indian household smells of these delicious snacks that are also fondly exchanged with friends and family. So among the wide variety of dishes that are popular made during Diwali, here is the recipe of Karanji that is one of the most popular and preferred ones. It is a sweet snack and it is very crunchy that is made with cocnut filling. Here is the recipe of Karanji that was shared by Ruchkar Mejwani.

Ingredients:

250 gms All Purpose Flour (Maida)
1 Cup Grated Dry Coconut
1 Cup Powdered Sugar
1/2 Cup Semolina (Zero number)
2 tbsp Ghee
1 tbsp Raisins, chopped
1 tsp Cardamom Powder
1 tsp Poppy Seeds
Dryfruits
Salt
Water

Method:

To Make the Stuffing:
In a pan heat some ghee. Then add semolina and roast it for some time.
Then add dryfuits, poppy seeds & grated coconut. Mix everything well.
Transfer this stuffing in a bowl and add chopped raisins, cardamom powder and powdered sugar. Mix everything well. Stuffing is ready.

To Make the Karanji:
In a large bowl add all purpose flour, hot ghee and a pinch of salt. Mix all the ingredients.
Then add water as required and make a soft dough.
Divide the dough in three portions. Roll out chapatis of the each portion.

Apply the mixture of ghee & corn flour to each chapati and place it on top of another as shown in the video.
Roll the chapatis and close the ends.

Cut the roll in small sizes. Roll the portion to make a not too thin puri.
Take a tsp of the filling in the middle of the puri and stick the edges together. Cut the edges with a roller.

Deep fry the karanji in medium hot oil in low flame till golden brown
Cool it and it is ready to be served.
You can also watch the video of how to make Karanji at home here:

Isn't it too easy to make Karanji? So this Diwali, instead of relying on your mom or some elder member in your family, just go to the kitchen and prepare this as a sweet surprise for your family.