Lucinda Nicholas (neighbor) – Miss World South Australia winner – she says I am more than a pretty foreigner, I am here to play game and win.
Salman says oh my God, what did I see? what will happen on weekends? it will be war. Lets bring them on stage. Salman says we will talk to them from video chat. Video chat connects to Salman, they greet him. Salman says you four are neighbors, news was around for this. Salman says do you realize responsibility? which quality brought you here. Salman says Mehjabi you are anaconda? all laugh. Mehjabi says it will be spicy in house. Luv says we have quality to make people nervous. Salman asks Sabyasachi what quality do you have? he says I am straight forward and can recognize weak pulse of people, Salman laughs and says this is good. Lucinda says nameste. Salman asks if she knows Hindi? Lucinda says I am trying, I am in India for one year, I like it, I am a yoga teacher. Salman asks her yoga names, she says it, he says what? hot yoga? she laughs. Salman cant understand sanskrit names. Salman says you have good pronunciation. Salman wishes them and ends call.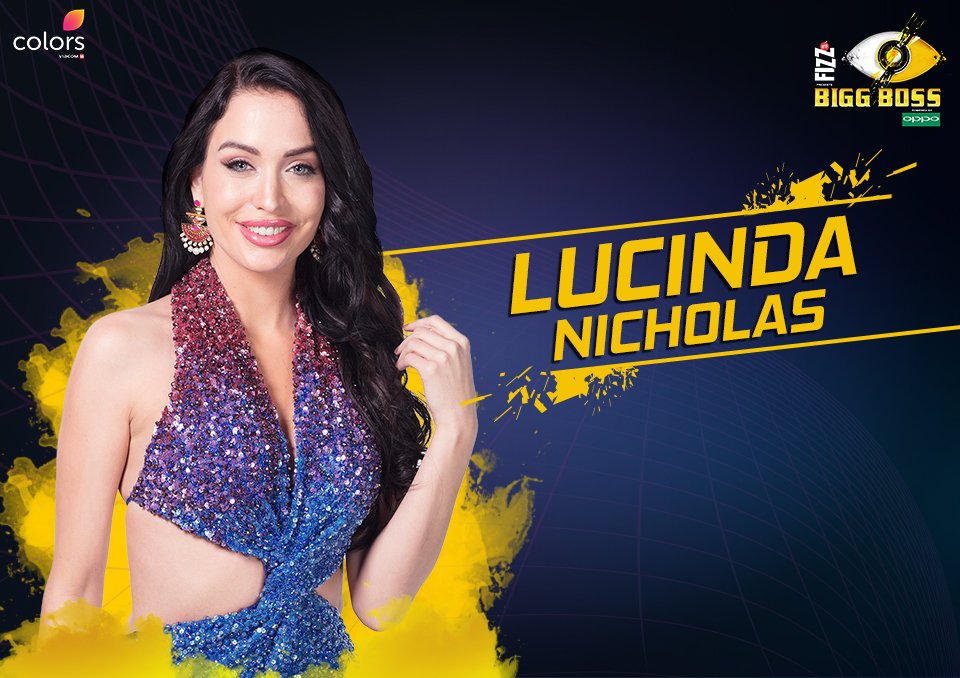 Lucinda Nicholas model from Australia -Bigg Boss 11 contestant : Profile, wiki, biography


For the first time a commoner overseas contestant has been selected for Bigg Boss 11. Lucinda Nicholas is self made Australian model trying to rope her feet in Mumbai film industry without having any Godfather. Her struggle has been an inspiration for all strugglers. She worked for many top brands and had done modelling with famous actors like Arjun Rampal. Know how she got selected in Bigg Boss 11 and her profile, biography and all the interesting stories related to her.
Lucinda Nicholas an Australian model who can speak Hindi as well as a bit of Telugu has been roped in Indian television biggest reality show Bigg Boss. Searching for a strong platform, Lucinda got the opportunity to be auditioned for Bigg Boss this season and finally she got a nod from the producers and will now provide the x factor to the show.
Profile, biography of Lucinda Nicholas, Australian model and contestant of Bigg Boss 11
Lucinda Ncholas present status
- She is single at present.
Lucinda Nicholas age
- Her date of birth is on 1993 and her present age is 24 years.
Lucinda Nicholas address
- She is basically from Queensland, Australia but presently residing at Mumbai.
Facebook profile of Lucinda Nicholas
-
https://www.instagram.com/lucinda_nicholas/?hl=en
.
Instagram profile of Lucinda Nicholas
-
https://www.facebook.com/lucindanicholasofficial/
Twitter profile of Lucinda Nicholas
-
https://twitter.com/lucindanicholas?lang=en
.
Lucinda Nicholas family, works, achievements and controversies
Lucinda Nicholas is a beauty with brain. She has been considered asnext Katrina Kaif of Bollywood. At the age of 17 in 201 she won a beauty pageant Miss South Australia. She started modelling after that and worked for many top brands of Australia. Her journey in the entertainment industry started flying high and she appeared in many musical videos, some of her hit videos are Yiu're Beautiful in which she was lead actress opposite Nathaniel Willemse. Then another musical super hit video Bullit' with French music producer Watermat which hit 20 million views and its sequel also featured Lucinda which got 5 millions views.
In Bollywood Lucinda Nicholas worked in Boss, a film of Akshay Kumar. However her debut movie as an actress is Guest in London released in 2017.
Lucinda Nicholas in and as Bigg Boss 11 contestant
Many overseas females shaped their career with Bigg Boss, some of them are Elli Avram, Mandana Karimi. Lucinda Nicholas following the same path auditioned for Bigg Boss 11 and got selected as a commoner contestant. She will be an oomph factor and certainly Salman's favourite. Presence of Lucinda Nicholas will make the house hot and she will certainly have a great journey in Bigg Boss and will be able to get the recognition which is her actual aim.