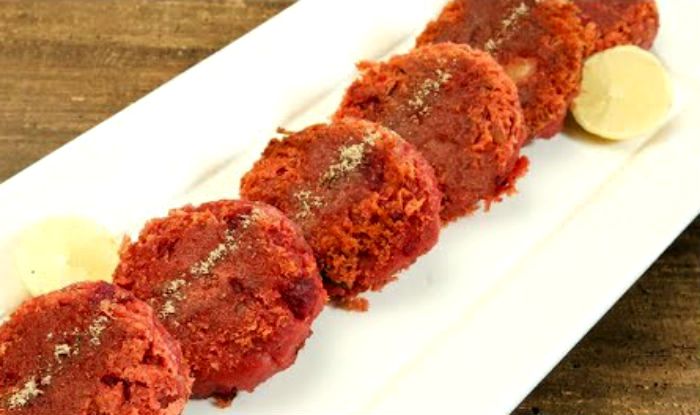 Navratri 2017 is here! The nine-day long Hindu festival dedicated to goddess Durga is celebrated with a lot o of excitement by people in India. People observe fast during this festive season by refraining from eating rice and the Indian bread. This Navratri, instead of sticking to the basic fasting food sabudana khichdi, try something new. We had earleir shared with you a delicious recipe of Vrat Ki Kachori and Moongfalli aur Makhane ki Kadi. Today we share with you yet another interesting snack recipe of sweet potato kababs or cutlets. This recipe is easy to make. Here is the list of ingredients followed by the method of preparation.
(ALSO READ Learn How to Make Traditional Moongfali aur Makhane Ki Kadi this Navratri).

Ingredients:
For baking the ingredients:
½ kilo Sweet Potatoes
½ teaspoon Vegetable oil
1 pinch of salt
1 Beetroot
For frying:
2 teaspoons oil
1/4 teaspoon cumin seeds
2 green chillies, finely chopped
1/2 teaspoon ginger, grated
3-4 tablspoons gram flour
½ teaspoon coriander powder
½ teaspoon cumin powder
½ teaspoon black pepper
½ teaspoon red chilli powder
1 teaspoon salt
½ teaspoon aamchur powder

Method:
Grab the sweet potatoes and wrap them in an aluminium wrap after adding oil and salt to them. Repeat the same with beetroot and toss them into a preheated oven at 180°C and bake for 40-45 minutes. Let them cool down for 10-15 minutes.
Then unwrap from the foil and peel them and mash them together. Once done, heat oil in a pan and add cumin seeds, green chillies, ginger, gram flour and roast for 3-4 minutes. To this add coriander powder, cumin powder, black pepper powder, red chilli powder, salt, aamchur powder and mix it well.
After roasting this well add the sweet potato and beetroot mash and mix it well. Transfer this mixture to a bowl. Grease your hands with some oil, roll out the sweet potato and beetroot mixture and shape it into cutlets.
Pour oil in a pan and shallow fry the cutlets in it. Once they become slightly golden brown, transfer to a serving dish. Serve them with a dash of lemon and some amchur powder. You can also dip it in green mint chutney and have it.
Watch this above video to know the step-by-step process of making this yummy Navratri special sweet potato and beetroot cutlets.