TOP Worst Colleges - Top 10 Most Torturing Engineering Colleges in TamilNadu
---
1. Adhiparasakthi Engineering College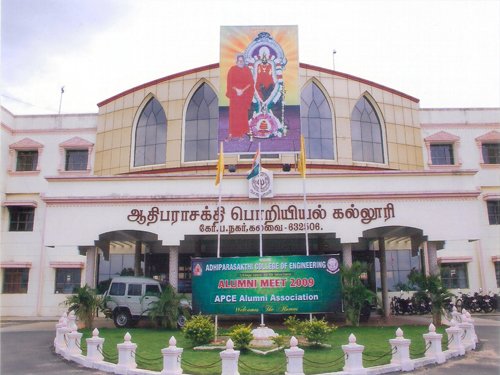 Dr. DY Patil Institute of Technology, Pimpri.
This institute is nothing like what you would define as an engineering college. Infact, it's even worse than an elementary school.
Campus is pathetically small, no playgrounds just a mini basket ball court.
The small campus is shared by three colleges Engineering, Pharmacy and MBA.
College doesn't even have a Canteen or a Parking of its own.
Teaching is average at best. Half of the faculty don't even know proper English,poor communication s****s,lack of technical knowledge about there own subjects, but have aggressive attitude (there are some exceptions though).
College life is hell,especially for 1st year. First year students aren't allowed to participate in any fests or extra-curricular activities,very few holidays,no practicals,no sports,not even a Freshers party for FE Students!!!!.
Faculty members share a mentality about how practicals and activities aren't important for First year and should only concentrate on studies. Ever heard of an engineering college which doesn't even conduct any practicals!!!.Yeah we are supposed to do engineering without performing any practicals (face palm).
College encourages students more to mug up the textbooks and acing up previous year question papers for passing semesters rather than providing any practical knowledge.
Mandatory attendance is compulsory(75%) which is really frustrating, since you actually don't gain anything here by attending lectures.
As a fine, you will be forced to buy books for library if attendance is less than required. And they will constantly keep on nagging you and message your parents for each and every lecture you bunk.
College conducts unnecessary extra lectures on every weekend and sundays which are a total waste of time.
So basically all we did whole year was attend lectures,write assignments, mug up the textbooks and clear semesters, without acquiring any practical knowledge related to any subject, or any kind of enjoyment or extra activities.
If you come here You will never know what a college life actually is.
You have to do everything on your own. Nobody is going to help you.
Colleges like these makes you hate and regret your decision for opting engineering. In your four years of B.tech life you won't gain anything productive here.
Things may improve a little from 2nd year since there are no restrictions for participation in events and faculty for senior years is comparatively better.
The placements are okay, nothing great. No big companies with hefty salary slips are known to visit the campus .
Only Advantage Of This College:
You'll learn to handle almost every problem of life before leaving this college...
PS: This college is nothing but hopeless!! Please don't take admission here.. (a sincere request for the betterment of your future)!
Sri Shakthi Institute of Engineering and Technology, Coimbatore
This college can be regarded as the worst college not only in India but also in the entire Universe.
Fake Marketing : This year the college authorities claim that a guy had got an offer from Amazon for 27 Lakhs per Annum CTC. The truth is that he didn't get job. He is currently undergoing "internship" at Amazon. At the end of internship, based on his performance he might be given a Pre-Placement Offer or a Pre-Placement Interview. By the way, even for IIT Delhi Undergraduates, the package given by Amazon was 16 Lakhs per Annum CTC only not 27 Lakhs. (Source : Uber, Amazon, Flipkart rush to IIT Delhi for placements; offer as much as Rs 36.6 lakh annually
). Same thing for students placed in Tivo. They aren't Employees. They are Interns.
Collecting extra Fees : Even, if we never broke anything in lab, we have to pay "Lab Breakage" amount for each lab every semester. If you don't pay, you won't get hall ticket for the theory exam. Anna University Photocopy fees is 300 Rupees and Revaluation fees is 400 Rupees but they collect extra 100 Rupees(50 for photocopy + 50 for Revaluation) from students who are presently studying here and 200 Rupees(100 for photocopy + 100 for Revaluation) from students who have already completed their 4 years but still having backlogs, in the name of Demand Draft. Anyway they are going to pay on behalf of all students. So, collecting 50/100 Rupees from students would give them a huge profit every semester.
Collecting Unnecessary Fines : A lot of parent's hard earned money is wasted by paying unnecessary fines for silly reasons. If the classroom is little dirty due to papers/chocolate wrappers, the whole class has to pay a fine of 10 rupees each. If there is any ink mark on the table/desk, a huge fine will be imposed on the students who had been sitting there. If any male student is found with his shirt untucked, his ID Card would be seized and to get back his ID Card, he has to pay 50 rupees. If you are wearing sandals instead of shoes, you have to pay huge penalty. Some of the other silly reasons for which ID Card might be seized include the following:
Coming late to class by few minutes(even for genuine reasons and unavoidable circumstances)
For failing an Internal test.
Talking with opposite gender.
Under-qualified Faculties : Most of the faculties who join this Institution are themselves from yet another Tier-3 College. Some of them join after completing their Post-Graduation here. Majority of them had never qualified UGC-NET nor GATE. Sometimes, they teach wrong concepts in class. Once in 1st semester, my Physics Teacher told "log(A)*log(B) = log(A+B)". He holds a PhD Degree in Physics.

I would like to nominate my Alma-mater GOKARAJU RANGARAJU INSTITUTE OF ENGINEERING AND TECHNOLOGY, Hyderabad.
I cannot claim that it is the worst engineering college in India, but yes, the college has tremendous amount of negativity that cannot be overlooked and deserves to be addressed immediately. Some may find this college an excellent hub of education - those who do, please don't waste your time by reading this answer.
Firstly (and the most visible aspect of this college), girls and boys are not allowed to speak to each other.Those males and females who do interact among themselves are accused of having a romantic affair. Girls cannot enter the boy's canteen (and vice-versa) and there are separate buses for girls and boys. The following picture conveys the awkward environment of the college (Notice that girls and boys are sitting separately)…..




The goon and 'gunda' of the college, named Padmaraju makes sure that males and females stay miles away from each other. All I want to say is that if you are a male and you have had female friends in Classes XI and XII, this college will push you on the edge of depression.
There is something misogynistic about this college. Girls are compelled to wear suits and salwars - they are not allowed to wear jeans. I once heard the Vice-Principal of the college narrating an incident from his life, "A girl was once wearing jeans….all the boys were looking at her, blah blah blah , it was her mistake, blah blah blah". WTF?!!!
Padmaraju has married discipline in his life - those who do not wear ID-Cards are humiliated by professors as well as (brace yourselves….) security-guards.
There was a wonderful time when this college was known for it's placements. Now the quality of placements has deteriorated drastically. Now, placements mean TCS and TCS means placements.
The medium of instruction is supposed to be English - you later realize that almost all of the lectures are delivered in Telugu. I agree that we as students also spoke among ourselves in Telugu. But these interactions in Telugu (both inside and outside classrooms) proved to be major obstacles for some of my friends who did not know Telugu. They felt isolated and rightly stated that this college, in true means, is a Telugu-medium college. So if you are not fluent in Telugu, NEVER JOIN THIS COLLEGE.
The practical knowledge disseminated in the college is a big ZERO.
CONCLUSION - There are valid reasons as to why this college is not included in the top colleges of the nation - you can agree with me only if you attend the ham-handed lectures of the college. My job is to forewarn you, put in rigorous efforts in classes XI and XII and secure admission in IITs/NITs/BITS etc. Local colleges of India were never equipped with good resources and you eventually feel frustrated in these colleges. Gokaraju Rangaraju college of engineering is exemplary of the sad state of affairs in these local engineering colleges of India. Join this college if you have no other option. Throughout my stay in this college I often thought, "If only I had cracked JEE-Main and JEE-Advanced…….". Good luck!







__________________
Future Story here