Currently, we have a bank of episodes, but issues will start after the next weekend because shooting has halted, say reality show producers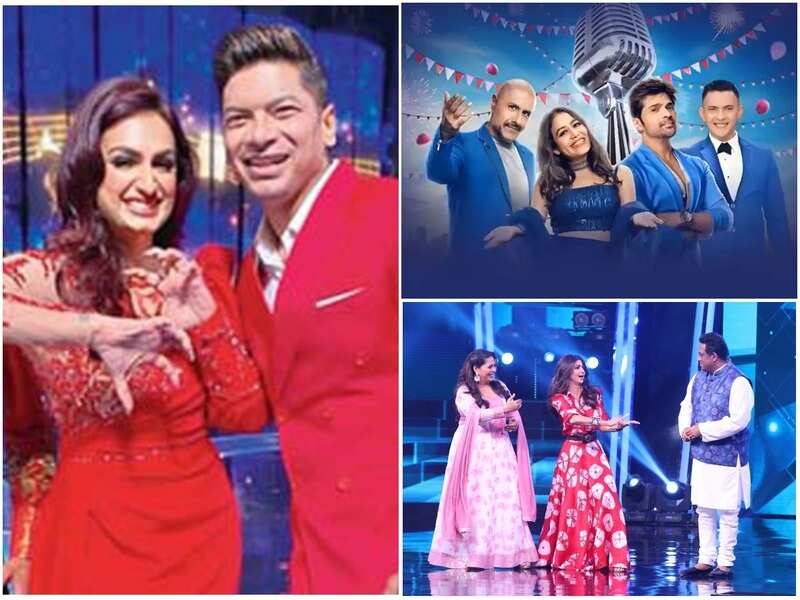 (Akriti Kakar and Shaan in Indian Pro Music League, Aditya Narayan, Vishal Dadlani, Neha Kakar and Himesh Reshammiya in Indian Idol and Geeta Kapur,
Shilpa Shetty
and Anurag Basu in Super Dancer)
Reality shows like Dance Deewane, Indian Pro Music League and Indian Idol have shot in advance and will manage the telecast for the next two weeks.
Arvind Rao, producer of Dance Deewane, says, "The issues will start after the next weekend because, currently we have a bank. The issues will start when would not have a bank after the next weekend. We are hoping for the best outcome of our meeting with the CM. As of now, we have halted the shoot." Along with Rao, judge Dharmesh Yelande and many crew members had tested positive for COVID-19 two weeks ago.
Like Dance Deewane, Indian Idol, too, saw host Aditya Narayan test positive. Contestant
Pawandeep Rajan
had also tested positive. A source said, "Last year, we were contemplating to relocate the set to Hyderabad and shoot the episodes from there, but this year, there has been no such talk as yet. We will wait till next week and see how things go."
Whenever shoots resume, reality show makers are toying with the idea of creating a bio-bubble, like sports tournaments have done so far. Ranjeet Thakur, producer of Super Dancer, says, "The cost of creating a bio bubble will be higher, but safety will be maintained. In case of a bio-bubble, we keep the entire crew (technicians) on the set as long as the shoot lasts. The contestants are also on the set, but in another zone. The judges travel from their homes, shoot for two episodes and only then can they leave the set. Before we start shooting, everyone has to undergo the COVID-19 test, and they are not allowed to come in contact with anyone outside the unit. In the case of a fiction show, a similar exercise can be followed."
Musician Shaan, who is participating in Indian Pro Music League, said, "I feel the COVID-19 upsurge in India and especially Mumbai must be taken very seriously. The lockdown must be followed strictly, so that the chain is broken. Let's pray and hope that once things come under control, we can resume shooting. We can take the necessary precautions and guidelines as we have taken in the past."