Latest Update:
Exclusive: BB Marathi 2 winner Shiv Thakare donates blood for COVID-19 patients, says "humanity matters rather than money and fame"
Bigg Boss Marathi 2 winner Shiv Thakare recently turned an entrepreneur by launching his new deodorant brand and aims to globalize it. The Bigg Boss winner is quite happy about her new venture and shared his excitement on social media.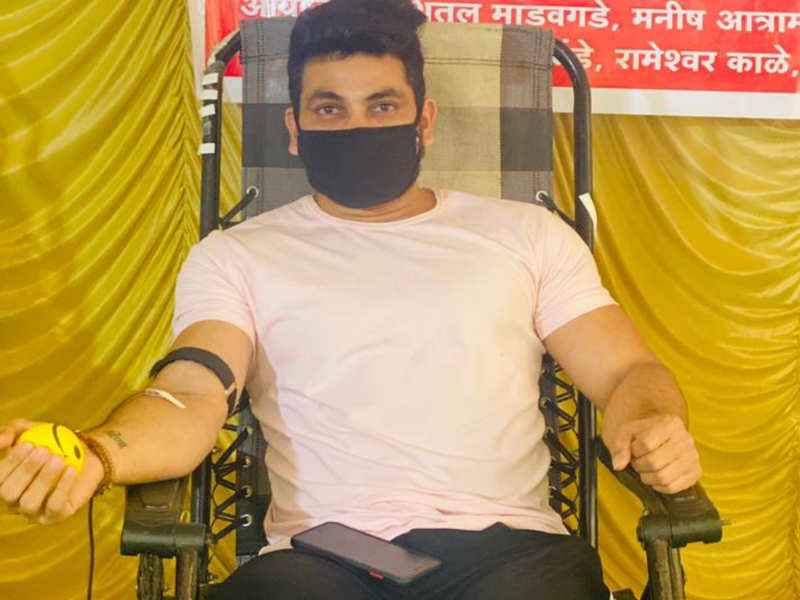 Several doctors and blood banks have appealed to the citizens to donate their blood before getting vaccinated. Meanwhile, the third phase of vaccination has begun for those in the age group of 18 to 44 years across limited centers across the state. Marathi actor and BB Marathi 2 winner Shiv Thakare decided to take part in the initiative and donate blood. Being a responsible citizen, he donated blood at his place in Amravati.
Shiv spoke exclusively to Etimes TV and said that he feels it's his duty as a responsible citizen. He said, "I learned that it's beneficial if we donate our blood before vaccination. We have two options of blood donation and plasma donation. I can't donate plasma because only COVID-19 recovered patients can do that, but I can donate blood. I feel the COVID condition is really getting worse day by day, and just verbal help is not sufficient for all of us, so I decided to do my bit."
Shiv further said that he feels we need to show support to others in these tough times. Shiv also emphasized, to him, humanity is more than money and fame. He said, "I feel humanity is all we need today. It felt so great after the blood donation because it will save someone's life and that's a special feeling. Blood donation is good for our health also. We all need to be sensitive and caring nowadays. Our Maharashtra state needs the citizens like us who are ready to help others even with our small contributions. We all should stand by each other. I feel your fame, money, and wealth do not matter in these situations; what matters is humanity.
Important Pages:
https://www.instagram.com/shivthakare9/?hl=en
https://en.wikipedia.org/wiki/Shiv_Thakare
https://wikifolder.com/shiv-thakare/
https://wikibio.in/shiv-thakare/
https://starsunfolded.com/shiv-thakare/
https://www.facebook.com/shiv.thakre.73
https://contestant.in/shiv-thakare/
https://wikifolder.com/shiv-thakare/