upGrad promises to fast forward your career: Put your trust where 2mn learners have
As technology evolves, people need to keep up with the changing trends of the market & its dynamic needs. What you learned a decade ago may not be relevant today. So, in order to stay relevant with the newer technologies & learnings, many working professionals today opt for ups****ing. To fast forward your career and move up the corporate ladder, ups****ing will help you stay up to date with the latest trends, markets and give you an edge over others. If you want to grow your career, you must look for programs, certifications, online courses, distant learning opportunities, etc with reputed organisations in the industry. While there are many options out there, we'll tell you why upGrad has some of the best options available.
Co-founded by Ronnie Screwvala, Mayank Kumar and Phalgun Kompalli in 2015, upGrad has learners from over 50 countries. The learner base at upGrad crossed the 2 million mark last month. But why does upGrad attract so many learners? What does it offer that other online higher education companies don't? Regarded as a credible and trustworthy platform, upGrad learners who ups**** well and at the right time, progress faster than their peers and become batchmates to bosses. It has allowed learners to break the monotony of appraisals and give them the much-needed jump in their career, as seen in the below film from upGrad.
upGrad has a variety of courses to offer, curated with reputed universities and educational institutions. Some of the top programs at upGrad are Data Science, Machine Learning and MBA, other programs like Software and Technology, Management, Finance, Law, have now gained popularity in the recent past.
Whether you want to pursue a Master's degree or a PG certification, upGrad has a course for you in your field. Learners at upGrad get the value they desire by leveraging the many advantages of specializing in specific fields from top universities globally.
Data Science programs at upGrad
The demand for data scientists is expected to increase exponentially in the next 4 to 5 years. As per a report by Analytics Insight, the expected data science job openings in India will be around 137,000 by the year 2025, rising from 62,000 jobs in 2020. Given such a huge number of data science jobs expected to crop up in the coming years, it is ideal to arm yourself with the right s****s to fast forward your career.
upGrad, as of now, already has 6 different courses in data science ranging from Executive Programs to MS Degrees. These courses are curated in collaboration with reputed Indian and foreign institutes like the University of Arizona, IIM Kozhikode, IIIT Bangalore, etc. This way you can ups**** as per your need. With its expertise in data science, upGrad offers a holistic approach to fast-forwarding your career.
To know more about data science programs available at upGrad, click here.
Machine Learning & AI programs at upGrad
Machine learning & Artificial Intelligence is expected to revolutionize the way we live our lives. In fact, ML & AI was used by researchers to tackle the COVID-19 pandemic and is seen as an essential tool in building a world post-COVID. The global machine learning market was valued at $1.58B in 2017 and is expected to reach $20.83B in 2024, growing at a CAGR of 44.06% between 2017 and 2024. Given the importance & opportunities in ML & AI, there's already rising demand for s****ed professionals in this field. In fact, as per a report by Forbes, machine learning jobs are projected to be worth almost $31 billion by 2024 globally.
Given the importance of Machine Learning and Artificial Intelligence, upGrad garnered expertise in ML & AI courses and has 6 courses to offer from Advance Certification to Master of Science. Strategic collaborations with reputed Indian and foreign institutes like IIT Madras, Liverpool John Moores University, IIIT Bangalore, etc has enabled upGrad to introduce programs that not only meet industry standards but also enable learners to build expertise in their domains.
To know more about Machine Learning programs available at upGrad, click here.
MBA from upGrad
Latest trends have suggested that jobs for advertising, promotions, and marketing managers would increase 6% between 2019 and 2029. This indicates that professionals with an MBA will be in demand. So make sure to prepare yourself better for the future. With upGrad listing 7 MBA programs, you can fast forward your career. From doctorate to global to specialization in Business Analytics, upGrad's expertise in MBA programs have attracted learners. These programs are curated in collaboration with reputed Indian and foreign institutes like Deakin University, NMIMS Global Access, Liverpool Business School etc.
To know more about MBA programs available at upGrad, click here.
Top benefits of learning at upGrad are:
Placement Support
Learning Support
A strong alumni network
Career counselling
upGrad further facilitates s**** development through competitions, projects, internships, boot camps and peer networking.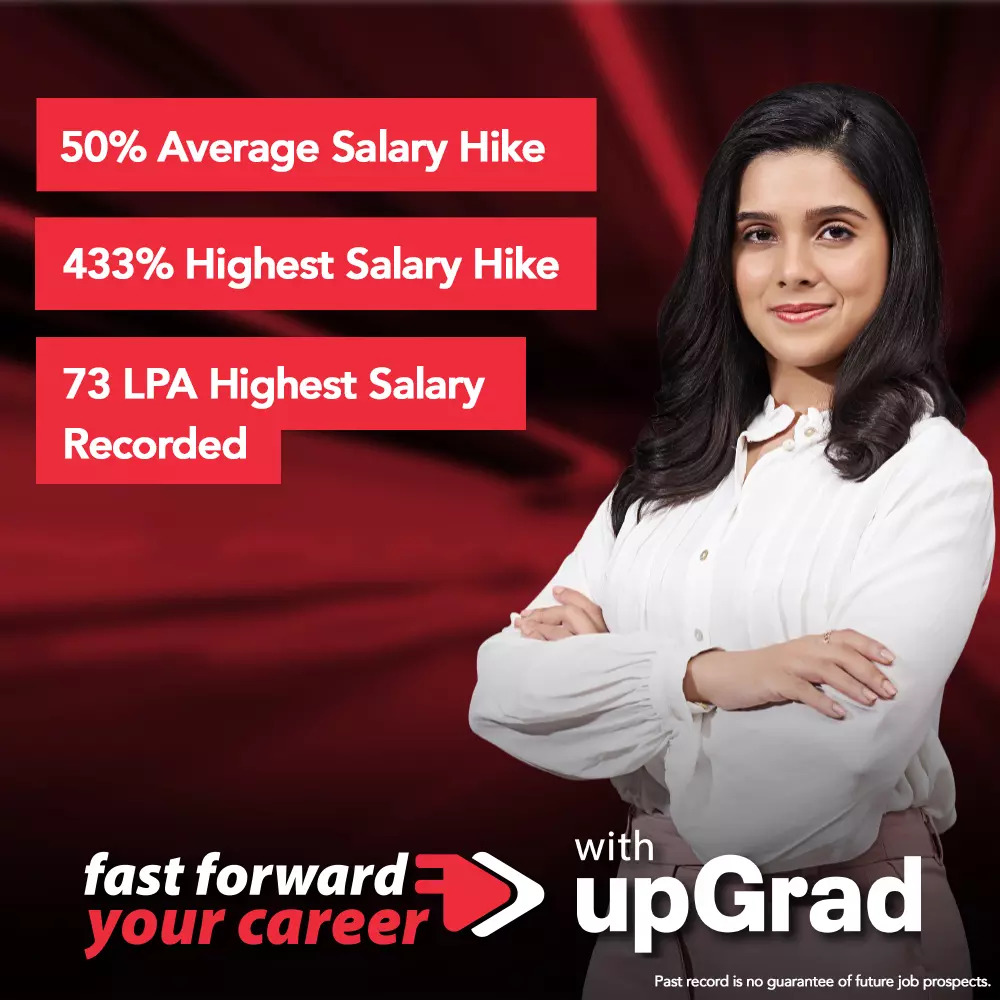 How upGrad takes care of its learners
When it comes to supporting you, upGrad has over 100+ members in the learner support team and a dawn-to-midnight Learner Support Team. upGrad provides personalised attention & peer-to-peer learning for its students. upGrad's world-class technology paired with human touch raises flags when it senses you're stuck, enabling self-paced learning.
As per the EdTech platform, an average of 80% of learners have got their desired career outcomes with upGrad.
For many learners, upGrad has indeed proven to boost their careers. upGrad states that learners could get as much as a 50% average salary hike after completing a course from the portal. And when it comes to recruitment, upGrad has over 450+ hiring partners with robust placement support and upGrad learners have been placed at 1000+ top companies.
Alumni & placement support at upGrad
upGrad has a strong alumni network of 50,000+, working in top brands such as Amazon, Accenture, ESPN, Flipkart, Jio, Ola, Myntra, Microsoft, Visa and many more. Learners choose upGrad to boost their careers not only because top education universities recognise the programs, but the curriculum is industry-relevant, which prepares them for the ever-evolving market. upGrad has a world-class faculty and facilitates 1:1 mentorship.