Staying fit and fab is a must especially in show business. There have been times when the celebs have been highly praised by the fans for their ripped physique just like they faced criticism and trolled for gaining weight. While some celebs decided to give it back to the trolls, some decided to handle it with silence and concentrate on body positivity. From Namita Thapar to Rupali Ganguly a number of celebrities have been brutally trolled for their body weight. Here are some actors who faced similar incidents and gave it back to the trolls:
Namita Thapar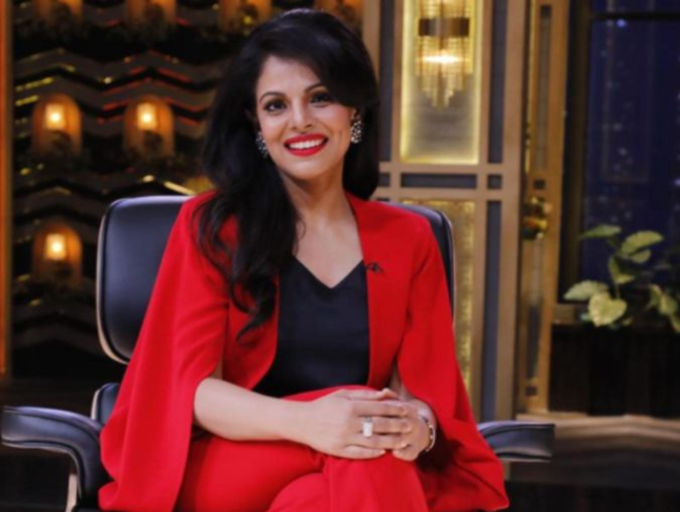 Shark Tank India
judge Namita also revealed that she has faced body shaming during her young days. Namita reveals that due to criticism in her life from her family and friends, she started overeating. Namita said, "I had facial hair on my upper lip. A lot of girls have. A guy in my class would call me, 'Mishi wali porgi'. 'Mishi' means moustache and 'porgi' means girl. So I would be called 'The girl with a moustache', 'moti'. Like everything else, I have worked hard on myself. I used to feel extremely ugly and had a very low self-esteem. I would feel so depressed at times. From the university, when I used to return home, I would turn on the television just to hear some noise. I would be sad and lonely and every evening I would just eat one pint of ice-cream. I had put on 20 kilos. I suffered from emotional eating. It's been 4-5 years that I don't do anymore. For 40 years of my life, I have been an emotional eater. I have always looked at food, especially sugar as a way to make myself feel better."
Shraddha Arya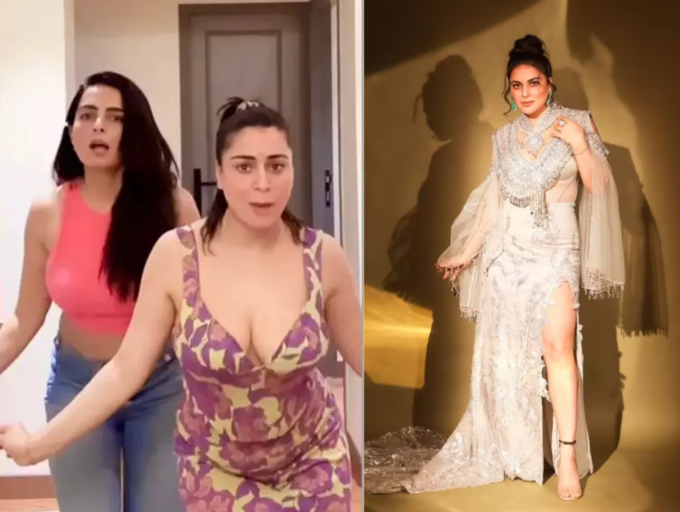 Preeta, aka Shraddha Arya from
Kundali Bhagya
, was criticized for being overweight in a recent video with her co-star
Ruhi Chaturvedi
. The actress has consistently been fit and healthy and told BT "I have never cared about trolls. Sometimes netizens shower you with compliments and sometimes they comment on your appearance because maybe the camera angle was not right. I have always been fit and by fitness I mean I look and feel great. I have always believed that even if you gain a few kilos, you should not worry or fret about it and race towards maintaining the ideal weight. It doesn't matter if you are a few kilos heavier because at the end of the day what matters is good health and how fit you feel. I am fit so I don't give any importance to trolls and their comments."
Rubina Dilaik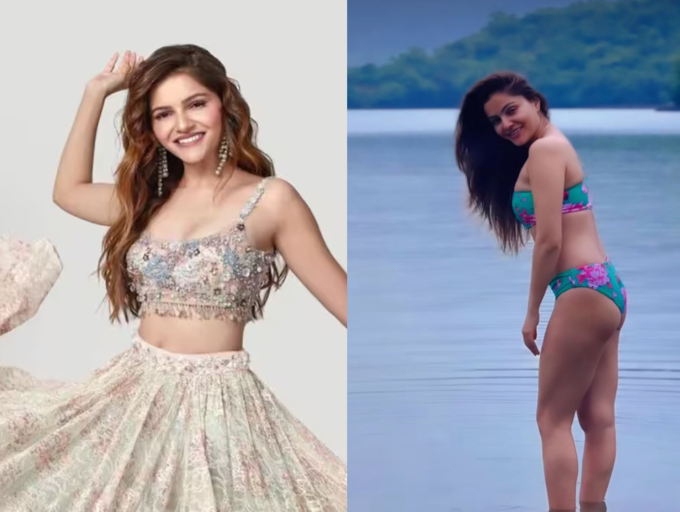 Bigg Boss 14
winner and television actress
Rubina Dilaik
gained some weight after recovering from COVID-19. The actress received derogatory remarks and was shocked to see that she is solely respected for her appearance instead of her talent. She wrote a caption on the post that said "Dear well Wishers/ PSEUDO FANS , I am observing that my weight gain is bothering you! You are relentlessly sending hate mails and messages , you don't see my worth if I don't hire a PR or if I don't tip paps for spotting … you are threatening to leave fandoms coz I am fat now , I don't wear good (designer) clothes and I am not working hard to get BIG projects …. Well , I am indeed disappointed that , FOR YOU, my physical appearance is far more important than my talent and my commitment to my work ….. But I have a GOOD NEWS for you all…. ITS MY LIFE and it has phases , and you too are a phase of my life ! ……PS :- I respect my fans, so don't call yourself my FAN!"
Rupali Ganguly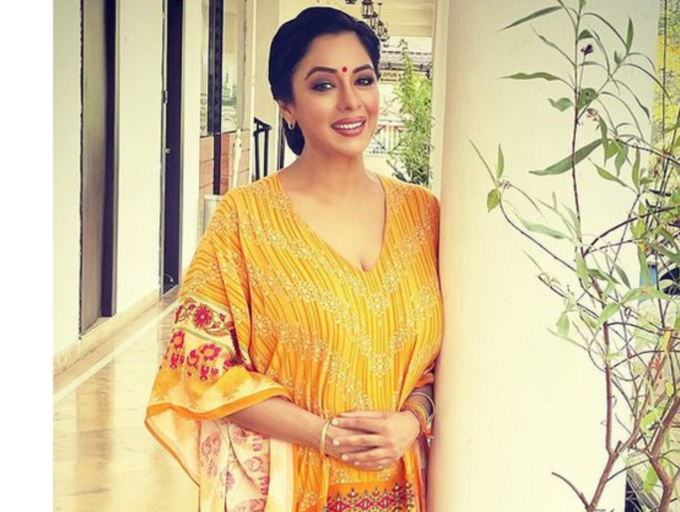 Anupamaa
aka Rupali Ganguly spoke about her struggle with body shaming after delivering her son Rudransh. She stated that an elderly woman in her neighbourhood condemned her because she had gained weight. She told in one of the interviews that "From 58 kilos when I delivered Rudransh, I went up to 86 kilos. When I would take my child out for a walk, certain neighbouring aunties that I didn't even know… 'Arre, tum toh Monisha ho, kitni moti ho gayi ho (You are the actor who plays Monisha, right? You have gained so much weight).' Who gives anybody the right to judge a mother? Nobody knows the kind of issues that a woman is going through."
Hina Khan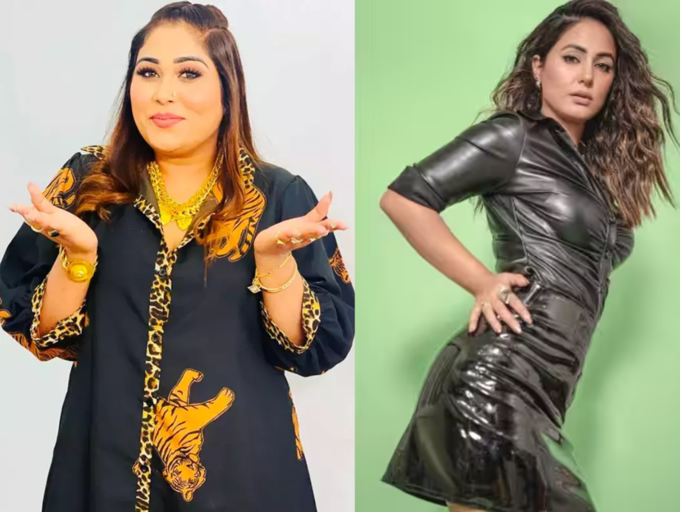 Hina Khan is a fitness enthusiast, but after the unexpected death of her father, Aslam Khan, the actress took it easy and prioritized her mental well-being over her physical appearance. The actress shared a photo of herself from a training session as well as some words. Hina told "I had put on some kilos in these months for obvious reasons and I really did not pay attention to how many kilos I put on... My mental health was way more important and I just wanted to be, wanted to do things that make me happy. Sometimes let yourself be, enjoy the little things, do what you like without thinking much about what people will say or how I am looking... After all, one needs to be in the right frame of mind to do anything in life... And I chose mental health, my well-being, over my physical appearance... Now here I am, back in action."
Rashami Desai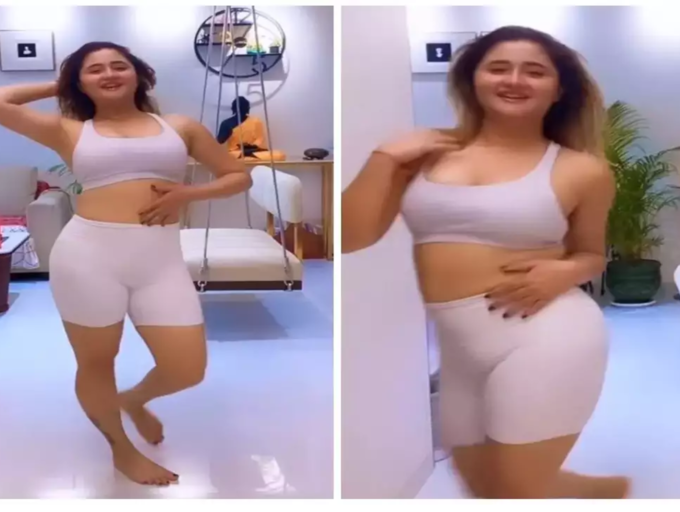 The
Bigg Boss 13
participant, who appeared as a wild card competitor in the 15th season, has been mocked on multiple occasions for her weight and body shape. Rashami told ETimes TV " I have been trolled a lot of times for my size, make-up, clothes, hair, for my low cleavage. I have a habit of fluctuating when it comes to weight. Sometimes I gain or lose weight, so they have a problem with that too. There are times when they don't like my clothes or dance, so they comment on that too. I want to tell these faceless people it is my body, my choice I will do what I feel is right. I have earned it."
Mahira Sharma
Mahira Sharma faced wrath from netizens when one of her earlier interview recordings went viral a few months ago. Mahira apparently walked out of an interview in the video as the interviewer inquired about her excessive weight gain. Netizens mocked Mahira, dubbing it "Karma," because she had body-shamed
Shehnaaz Gill
in
Bigg Boss 13
's house.
Divyanka Tripathi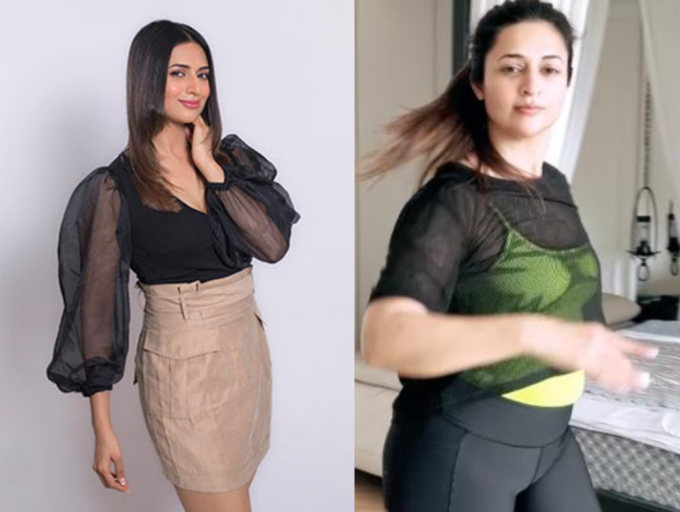 Divyanka Tripathi was photographed wearing a blue Kurti with her husband, Vivek Dahiya, and producer Sandip Sikcand. Her clothing was criticized, and others felt it was way too tight for her weight. In contrast, the Yeh Hai Mohabbatein actress subdued the naysayers by instructing people to respect women.
Aashika Bhatia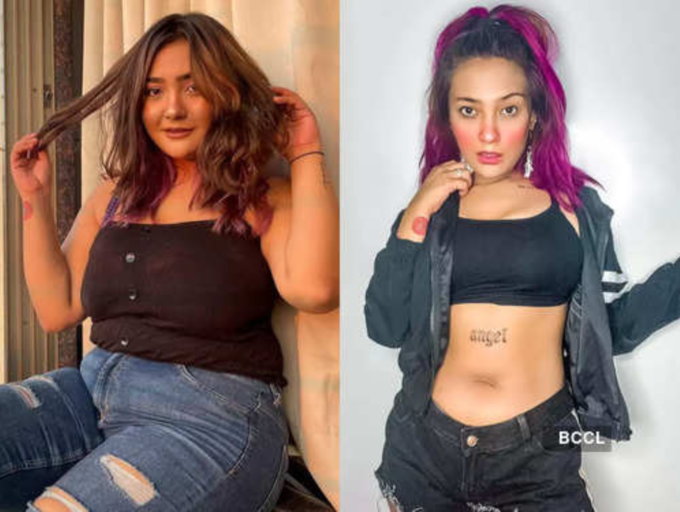 Aashika Bhatia, the actress from
Kuch Rang Pyaar Ke Aise Bhi,
has recently lost a lot of weight. Prior to this change, she had to cope upwith the ire of netizens who called her names "truck" and "saand." Trolls targetted the Parvarish actress every time she shared a reel video. She, on the contrary, never paid attention to them and continued working in silence. Aashika fired back at the haters after losing a lot of weight and sharing a before and after the video. She told ETimes TV "Always remember that each one of us is beautiful just the way we are. Nobody can take that away from you or say anything. Best is to ignore such people for your peace of mind. So, just be happy and remember 'you are beautiful just the way you are."
Vahbiz Dorabjee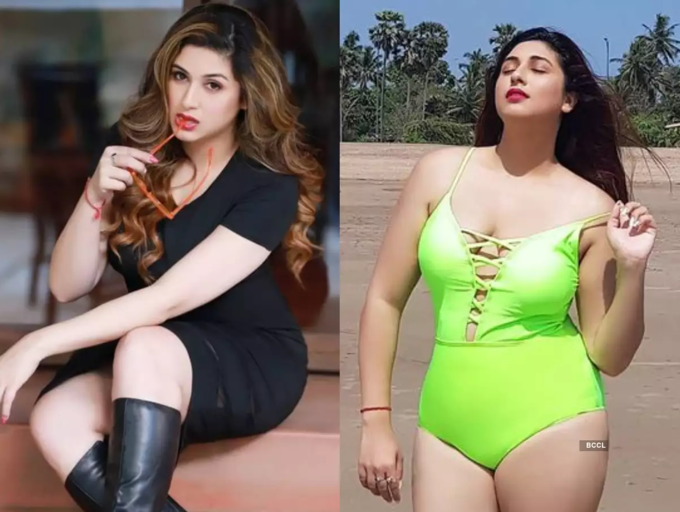 Vahbiz Dorabjee has lost weight and uses social media to promote body positivity. The actress was previously scolded for her "thunder thighs" after posting a swimsuit shot. Vahbiz further told BT "I have accepted the fact that everyone can't have a thin bone structure and I am a well-endowed woman. But not all women will have the strength to fight back. I know it is important to be fit, but sometimes, your metabolism does not respond the way you want it to. I hit the gym daily, but at the end of the day, I will look a certain way and today, I am happy about it. A few years ago I gained weight due to a health condition. When I went for auditions, the makers would tell me that I needed to lose weight. Whenever I wore swimsuits, I was told I had thunder thighs and so should avoid one. If you are plump people call you names, which can be demotivating. I've broken down many times and lost my confidence."
Mandira Bedi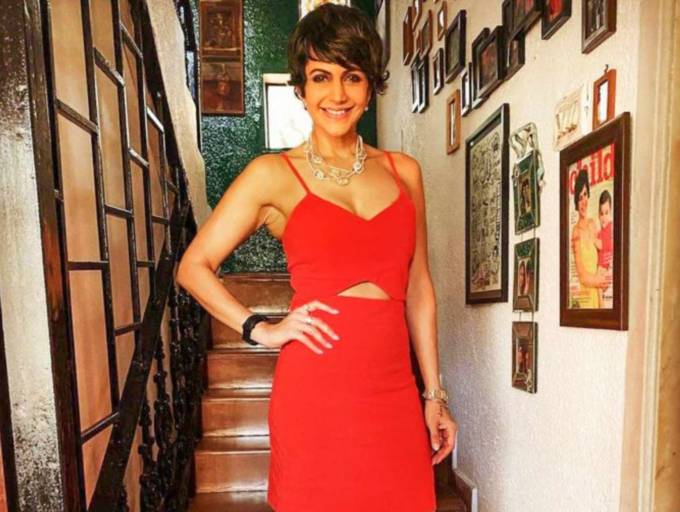 Mandira Bedi, a fitness enthusiast, is quite proud of her toned physique and does not hesitate to show it off in Instagram images. The actress has also faced online hostility. Mandira told IANS "Even though I prefer to ignore it, at times, it is very disturbing to read such comments, especially with the kind of language trolls use. It feels like an assault. The behaviour of these trolls is stemming from a poor upbringing."
Aneri Vajani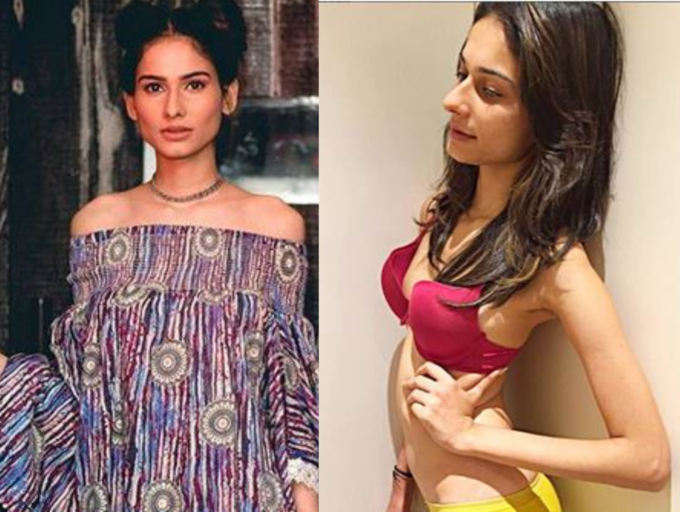 Aneri from
Beyhadh
was body-shamed on Instagram after she posted an image of herself in lingerie with the statement "When You Own Your Breath, NoBody Steals Your Peace!
Happy Yoga Day! It's #yogaday!" Haters began criticizing Aneri for being excessively skinny as soon as she uploaded the photo on Instagram. She then reacted with a lengthy Twitter rant about how the cosmos has a problem with people who are obese or underweight. She encouraged her admirers and others to dismiss the photograph if they didn't like it, but she also urged people to refrain from leaving negative remarks.