While Allu Arjun's vanity van costs Rs 7 crore approx, AJay Devgn's vanity van looks like a sports car, and Shah Rukh Khan's vanity van has all the latest gadgets. Check out the most expensive vanity vans your favourite film stars own.
Image credit: Instagram
Inside Allu Arjun's expensive vanity van worth Rs 7 crore
The popular South Indian actor owns one of the most luxurious vanity vans in the country. It reportedly costs around Rs 7 crore and it has been named 'Falcon' by the actor. Apart from many luxurious items, it boasts of a compact bed, bright imported lights, a recliner that the actor absolutely loves, a grand bathroom, and a separate sitting area.
Image credit: Instagram
Inside Shah Rukh Khan's vanity van
King Khan only deserves the best of the world and for the same reason, he has got a 14-meter-long Volvo 9BR as his vanity van that is entirely customised with the latest gadgets and technology. SRK's vanity van has a living area, a workstation, an entertainment system, a bedroom, a restroom and of course a gym area also. It is also the first Indian vanity van to have a hydraulic system that pushes out the living space to double the floor when the van is not moving.
Image credit:
Sanjay Dutt has a Rs 3 crore vanity van
Dutt's vanity van represents his strict and sharp style. It's 12-metre-long and costs around Rs 3 crore. The vanity van has a gaming area, two 52-inch screens, and the latest audio-video technology. Many fans don't know that it's inspired by Airforce 1 and functions on a central power system. It also has detachable computers and a sprawling lounge area.
Image credit:
Inside Alia Bhatt's pretty vanity van designed by Gauri Khan
Designed by Gauri Khan, Ali Bhatt has the most quirky-looking vanity van in the world. It's filled with a lot of wall quotes, painting, colourful decor, pretty lacy curtains, and a lot of bright lights.
Image credit:
Salman Khan has super stylish vanity van
Salman Khan's vanity van boasts of all the latest gadgets, and several portraits of him covering the brightly lit walls. It has a spacious meeting room where Salman hardly spends his time, a bedroom, and not to mention the sprawling gymnasium. It's known to be extremely stylish.
Image credit:
Ajay Devgn's vanity van looks like sports car
Ajay Devgn's vanity van looks like a sports car. It is a white big vanity van with sleek and stylish interiors that include his office, restroom, and kitchen. Ajay likes to keep it really silent and low-key whenever he's shooting outside and spends a lot of time inside his vanity van.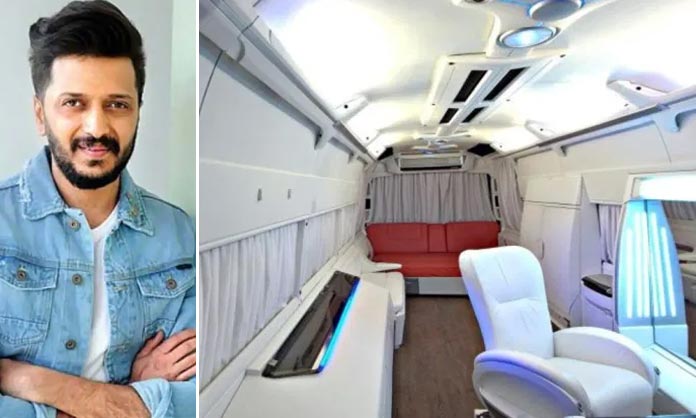 Image credit:
Riteish Deshmukh's Rs 2 crore vanity van
The man with a great sense of humour loves to have his money spent in the right manner. Riteish has one of the most striking vanity vans in Bollywood that costs around Rs 2 crore. It was made with the help of car designer Dilip Chhabria and much like his own house, it is quite classic and elegant. The vanity van includes a captain's chair, a television set, a lounge area, and some exotic lighting.
Image credit:
Pics of Hrithik Roshan's futuristic vanity van
Quite close to his taste in the movies, Hrithik's vanity van is totally stylish and boasts of a futuristic appeal. It is 12-meters-long with an office area, a lounge area, and a comfortable bedding space along with big restrooms. It's like having another grand mansion on wheels.
Image credit:
Inside Akshay Kumar's Rs 5 crore vanity van
For the Khiladi of Bollywood, the vanity van has been customised to make it look more like a relaxing space where he spends some time off his strict schedule. It also has a kitchen, a super expensive massage chair, and a huge dining area apart from, of course, the bedroom space considering Akshay is a follower of a real strict sleeping schedule. The vanity van reportedly costs Rs 5 crore.
Image credit:
Mahesh Babu has a vanity van worth Rs 6.2 crore
Right next to Allu Arjun in the South is Mahesh Babu with his luxurious vanity van that costs around Rs 6.2 crore. It has all the necessary amenities and a lot of styles. Mahesh Babu's vanity van has luxury furniture, a giant sitting area. He reportedly got the van customised by popular automobile company DC.
Image credit:
Amitabh Bachchan has an elegant vanity van
For the megastar of Bollywood, the concept of having a vanity van is mainly associated with having a home away from home. Bachchan needs his own time to think, write, and perform and for the same, he has got a vanity van which has a huge space for wardrobe and an ample area that allows you to have peace while reading, writing, and thinking. It's not extravagant but quite stylish. Oh, and did we tell you that he was reportedly introduced to the need to having a vanity van by his good friend and frequent collaborator director Manmohan Desai.