EXCLUSIVE- Sa Re Ga Ma Pa winner Arkadeep Mishra: People are asking me how a folk singer can win the trophy, my question is why not?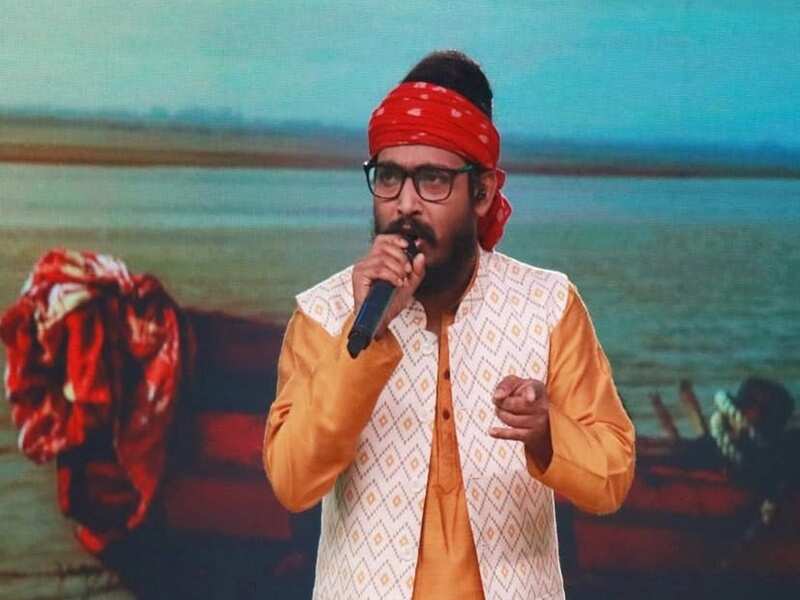 Soulful voice and an earthy smell in his songs, that's how Sa Re Ga Ma Pa 2020's stage remembers Arkadeep Mishra, who bagged this season's trophy. Name, fame, and accolades from none other than singer Shankar Mahadevan, music maestro Sivmani - he has it all. In an exclusive interview with ETimes TV, Sa Re Ga Ma Pa winner Arkadeep shared how the young boy, who wasn't happy to attend music class over playing cricket with friends, gradually fell in love with melody and found where his heart resides.
Quote:
"Honestly, I never thought I will be the champion. Even when we were the last two contestants standing on the stage awaiting the verdict, winning was the last thing in my mind. It took me a few hours, to realise that I won the competition. And suddenly it felt good,"
says Arkadeep, who never failed to amaze the judges with his performance.
The Grand Finale was a starry affair attended by some of the most renowned music maestros of our country and performing in front of them was a memorable moment for Arkadeep.
Speaking about his finale performance, he says,
Quote:
"In every episode, I reminded myself, this might be my last performance, and I will have to give my best. Finale was no different. Performing for the LIVE audience is one the most thrilling experiences one could ever have and I was keen on entertaining them. There were two rounds in the finale. Singers Shaan da and Jojo di joined me in the first song. After the second one, Shankar Mahadevan ji asked me to sing it once again and joined me on the stage. Shivamani sir accompanied me in the instrument. It was a lifetime achievement for any singer."
Arkadeep is from Naihati and grew up in a cultural environment. His mom plays Setar while dad is a theatre artist.
Quote:
"I grew up in a culturally sound environment. Maa used to play Setar while dad was busy with the rehearsals. I have also been a part of theatres when I grew up and also scored background music later. But to tell you the truth, I wasn't keen on learning music. I wanted to be a cricketer. When I was very young, I used to visit our neighbour's place. They used to have a singing class. One day, after coming back home, I played the Nazrul Geeti on harmonium which was being taught in the class held at their place. It caught the attention of my parents who immediately decided to admit me to a singing class," he took a break and then added, "I wasn't happy at all. Being a 5 year old, I was more interested in playing cricket with my friends than attending a music class!"
Arkadeep laughed while sharing.
But destiny had something else stored in.
Quote:
"I was a good cricket player, used to play table tennis too. But as I grew up, I realised music is my passion. I learned Indian classical, Nazrul Geeti, Rabindra Sangeet and Folksongs. The more I spent time with music, the more it attracted me. I took talim from different Gurus including Abhijit Basu, learned to play several instruments as well. I wanted to pursue Chemistry in graduation but realised I won't be able to dedicate enough time so left it. After graduation, I pursued post-graduation in Music," he shares.
By this time, Arkadeep had a music band and took part in a reality show on National Television.
Quote:
"We were among the top 12 groups. The show had Sunidhi Chowhan, Badshah and Pritam. It was a great experience. I came back to Kolkata from Mumbai and somehow appeared for the exam. To my surprise, I got first class. Then I was planning for PhD but lockdown was announced," Arkadeep adds. At this time, he learned about Sa Re Ga Ma Pa's audition. "Nothing works as per plan. Taking part in Sa Re Ga Ma Pa was again a quick decision. Somehow cracked initial auditions," he says.
The rest of the journey was quite eventful. Arkadeep made many friends, got the opportunity of taking grooming lessons from the best in this industry and a chance to be in the team of her 'Gurubon' Iman Chakraborty. "Ït has been an amazing experience in Sa Re Ga Ma Pa. I learned a lot of things. Iman di, has been a true inspiration to me. She was there every time I needed her," he says.
When asked about the pressure due to the competition, Arkadeep adds,
Quote:
"I worry about almost everything but always stay calm before the performance although people have the opposite impression about me (laughs). I used to tell myself that what could be worse than getting eliminated."

During the conversation, Arkadeep revealed an interesting side. The witty singer says, "I keep checking my pulse rate and BP. And make sure it doesn't go beyond a limit. In fact, I have a bag full of articles- right from insta-noodles, homeopathy medicine, BP machine, Oximeter. If someone from the team is hungry they used to call me. If someone needed medicine at the middle of the night, they used to knock my door."
Arkadeep, who cemented his place with his folk songs, shared that he isn't choosy when it comes to music. "I am never choosy about music. I listen to Bob Dylan, Metallica at the same time Thumri and Chaith. I keep experimenting with songs too. I see no harm if one genre meets the other in the middle of a melodious path," he explains.
During the conversation, Arkadeep, shared that he had to face many questions regarding his choice of music. "People ask me how a guy who sings folk song can win the trophy. My question is why not? We whole heartedly accept a Bollywood song based on a folk song but can't accept its truest form with an open arm. Moreover, folk song doesn't mean only baul or Bhatiali. Different region has different folk songs. With every region, the pronunciation changes, expression changes and you have to keep these things in mind. It takes years after years just to learn it. But once the earthly smell runs into your music, there is no looking back."
It wasn't an easy path for a guy next door to achieve his goal. It took him years of dedication, hours of practice and an indomitable heart.
"See, my guru always says, without pain and sacrifice you can't learn anything. The meaning of sacrifice was different to a 5 year old boy who had to attend music class leaving his playground behind. Similarly, it had a different meaning to the grown up guy who came to Kolkata to learn music and had a few bucks in his pocket. Had he spent the money as an auto fair, he wouldn't have left with money to return home. You need to give your heart and soul and only then you might a step or two," Arkadeep signed out.
End of the article