Kannada daily soap Paaru completes 600 episodes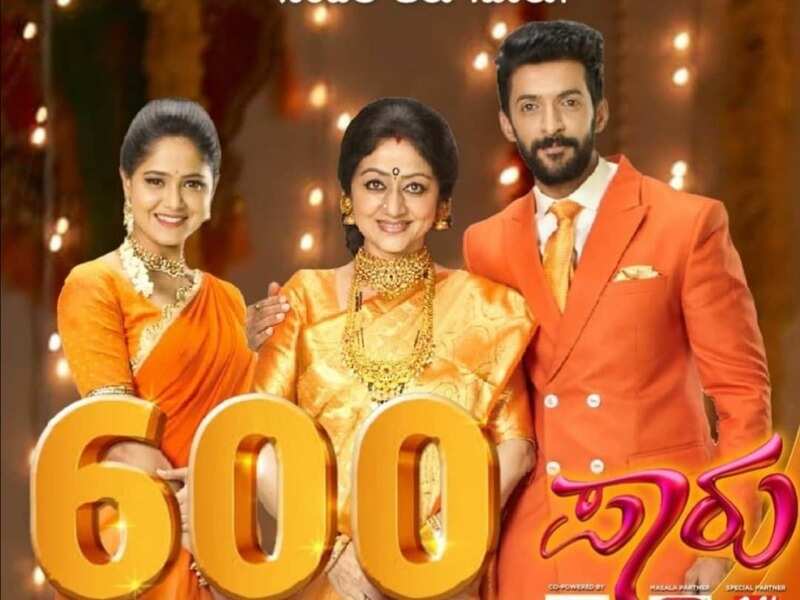 Paaru, which is one of the most popular serials on Kannada television, has successfully completed 600 episodes recently. On the occasion of the completion of 600 episodes, the cast and crew members of the show celebrated by cutting a cake on the sets of the show.
Pictures from the celebrations are there on social media platforms and fans are wishing their favorite stars on completing the milestones.
The show is directed by Guru Prasad and has Mok****a Pai and Sharat Padmanaban in the lead role. The duo portrays the character of Paaru and Adi in the show.
Paaru also marks the TV comeback of veteran actress Vinaya Prasad and filmmaker S Narayan. While Vinaya Prasad is seen in a prominent role, 'Akhilandeshwari', S Narayan essays the role of her elder brother 'Veerappa Nayaka'.
The theme of the serial revolves around Paaru, an honest housemaid who works for the welfare of the Akhilandeshwari family of Arasanakote.
In the latest turn of events, in order to win Adi's love, Anushka manipulates and makes Adi believe that she is the one whom he is searching for. Paaru learns about it and is devastated. She further meets Harish and asks him to reveal the true identity of the girl behind the 'eyes' Adi is searching for. Harish agrees to it and joins hands with Paaru.
On the other hand, Paaru is a remake of a popular Kannada daily soap 'Sembaaruthi'. However, notable changes are made to meet the needs of Kannada viewers in Paaru.
End of the article