Bhai Duj 2020: List of Top Bollywood Actors And Their Lesser-Known Siblings
Can you name the siblings of Anushka Sharma, Parineeti Chopra, Disha Patani, and Shah Rukh Khan? Take a look at Bollywood celebs' lesser-known siblings as India celebrates Bhai Duj.
Image credit: Instagram
Bhai Duj 2020: Top brother-sister jodis of Bollywood
The Diwali festivities aren't complete without celebrating Bhai Duj which is the festival to celebrate the bonding of brother-sister.
Image credit: Instagram
Anushka Sharma and her brother Karnesh Sharma
Actor Anushka Sharma, who is now expecting her first child with Virat Kohli, has a brother named Karnesh Sharma. Together, they run a production house called Clean Slate Films which has set a new example of making only content-driven shows and films.
Image credit: Instagram
Aishwarya Rai Bachchan and her brother Aditya Rai
Aishwarya Rai Bachchan, who is known worldwide for being one of the most gorgeous faces from the Indian film industry, believes a lot in traditions and cultures. She and her brother Aditya Rai share a beautiful bond.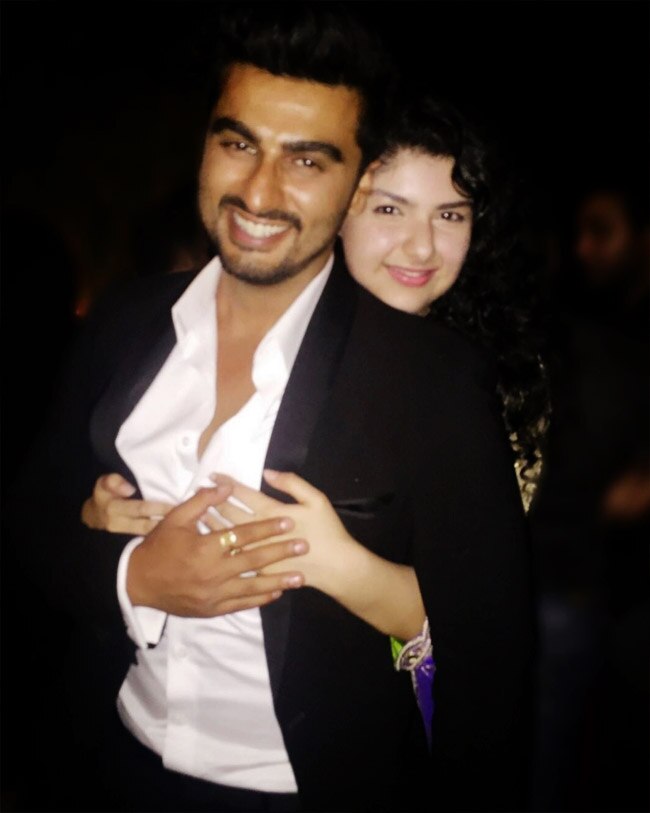 Image credit: Instagram
Arjun Kapoor and Anshula Kapoor
Arjun Kapoor and Anshula Kapoor have always shared a special bond. While Arjun has always been a caring brother for Anshula after their mother passed away, Anshula, too, finds her whole world in her brother.
Image credit: Instagram
Salman Khan and his sisters Alvira Agnihotri, Arpita Khan Sharma
There's nothing in this whole wide world that superstar Salman Khan can't or won't get for his dear sisters. The actor has two sisters - Alvira Agnihotri and Arpita Khan Sharma who are very close to Salman.
Image credit: Instagram
Parineeti Chopra and her brothers, Shivang Chopra and Sahaj Chopra
She might be a glamorous actor on-screen but when it comes to being with her brothers, she turned into this bubbly girl who's like the most spoiled child ever. Parineeti has two brothers - Sahaj Chopra and Shivang Chopra and she shares an adorable bond with both of them.
Image credit: Instagram
Priyanka Chopra and Siddharth Chopra
Actor Priyanka Chopra and her brother, Siddharth Chopra, are very close to each other. The two have got each other's back ever since their father passed away due to cancer.
Image credit: Instagram
Ranveer Singh and Ritika Bhavnani
Acto Ranveer Singh is very emotional about his sister, Ritika Bhavnani. She's his elder sister and her wishes are Ranveer's commands. Theirs is a very respectable and highly emotional bond.
Image credit: Instagram
Disha Patani and Suryansh Patani
Actor Disha Patani's brother Suryansh Patani is quite an artist. The actor often shares artwork by him and they share a fun bond being the younger ones in the family.
Image credit: Instagram
Akshay Kumar and his sister Alka Bhatia
Actor Akshay Kumar has an elder sister named Alka Bhatia. both of them are well established in their fields and share a very mature and emotional bond.
Image credit: Instagram
Kartik Aaryan's sister Kritika Tiwari
Actor Kartik Aaryan gives a lot of credit for his success to his sister named Kritika Tiwari who's a doctor by profession. Kartik is often seen teasing her in the videos posted on social media and it's visible how they share a beautiful bond.
Image credit: Instagram
Shaha Rukh Khan and sister Shehnaz Lalarukh Khan
Actor Shah Rukh Khan's sister, Shehnaz Lalarukh Khan, stays away from the limelight but it is said that for SRK and his family, there's nothing that's above her. The superstar takes the utmost care of his sister and makes sure she's having only the best in life.
Image credit: Instagram
Ranbir Kapoor with sister Ridhima Kapoor Sahani
Actor Ranbir Kapoor and his sister Ridhima Kapoor Sahani share a quirky bond. The actor adores his niece and immediately grabs any opportunity to spend time with Ridhima, her husband, and his niece.
Image credit: Instagram
Neha Kakkar and Tony Kakkar
Singer Neha Kakkar and her brother, Tony Kakkar, not only share their common interest in music but they also have a lifetime commitment to supporting each other in the industry. They perform together, create music videos for each other, and leave no chance to talk about each other's struggles.