H
oli Rangoli Designs 2018: 5 Easy And Colourful Rangoli Designs and Patterns
Holi- the festival of colors and frolic is around the corner. The festival is one of the famous Indian festivals and is celebrated with great zeal and fanfare. Holi is spring festival and the same signifies the victory of good over evil and the festival also commemorates the arrival of spring and end of winters. It also marks the agricultural season of the rabi crop. Holi is a two-day festival. The first day is known Holika Dahan or Choti Holi and this year it falls on March 1 and second day is celebrated as Dhuleti or Dhulandi or Phagwah and the same falls on March 2. On the evening of the first day people light the bonfire and offer raw coconut, sweets and corn to the fire. The second day as mentioned is the festival of color. Playing with colorful powders, water guns indulging in Holi sweetmeats like halwa, gujiya and Thandai are an intrinsic part of the festival.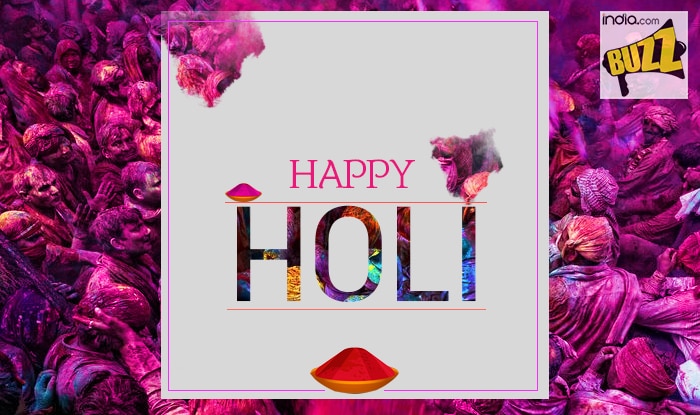 On this day people forget and forgive and mend their old conflicts and enjoy the festival. From Dol Jatra of Bengal to Lathmaar Holi of Barsana to Hola Mohalla of Punjab are some of the unique celebrations of Holi. Holi parties and other Holi inspired events are also conducted wherein groups of people meet and enjoy the festival along with food and Holi songs. On the auspicious occasion of Holi, many people draw rangoli designs which is coloured sand art at their homes and offices. The designs not only beautify the home but also bring good luck. If you are too looking for easy rangoli designs for the occasion then you are at right place as we have listed out some of the best and easy rangoli designs for Holi.
Easy checkered freehand design

This particular rangoli is very easy. One has to draw the circles and lines with the help of chalk and later fill the same with colors with help of a sieve. And with the help of small stick one can create petals to give flower-like effect.

Simple dot and petal rangoli design
This rangoli design can be done in a matter of two minutes. Yes, one of YouTubers Jyoti Rathod uploaded the video a few days back so that viewers can make this easy and colorful rangoli. To make this rangoli, you just need colorful sand, pen and circular plate.

Happy Holi easy rangoli
Nowadays we can find dropper for rangoli designs and the same helps to create rangoli easily. And this YouTuber has nicely shown and gave instructions on how to make a great design by using sieve, dropper and matchstick.

Easy Holi Rangoli using Comb
In this tutorial, the famous Youtuber showed how to smartly use comb and matchstick for making easy holi rangoli design. For the rangoli, she used rangoli colours, matchstick, comb, matchstick, toothpick and flat base bowl and sieve.

Pichkari or Watergun rangoli design
If you want to try an unconventional rangoli design then you can go for this Holi design which features Watergun. The YouTuber has perfectly shown how to draw the design.
To enjoy the festivities many people travel to different parts of India and witness traditional and unique Holi celebrations.
Places like Barsana, Mathura, Vrindavan, Shantiniketan and Anandpur Sahib are some of the places where people throng to witness the festivities of Holi. What are your plans of Holi and which rangoli you would like to make? Let us know in the comments below.
Watch @
http://www.india.com/lifestyle/holi-...terns-2919344/
Similar Threads: