Aakash Ladlani (A-Cash rapper)
There is a contestant Aakash in jail underground. He waves at camera and looks around, he says no.. mama.. why they locked me in jail? Hiten enters house. He meets contestant in jail, Hiten greets him. Aakash says you are beautiful. Hiten asks why he is in jail? he says I am a rapper, bad boy. Aakash says I am Sindhi too. Hiten says I will go look inside house then I will comeback. Hiten comes in house and says it will be fun. In jail, Aakash says I want to see house too. Hiten sits on couch and says wow. He looks around. Aakash in jail says Hiten is lucky to look around house.On stage, Salman says Aakash doesnt know why he is in jail. Lets move on. We will meet our neighbors now.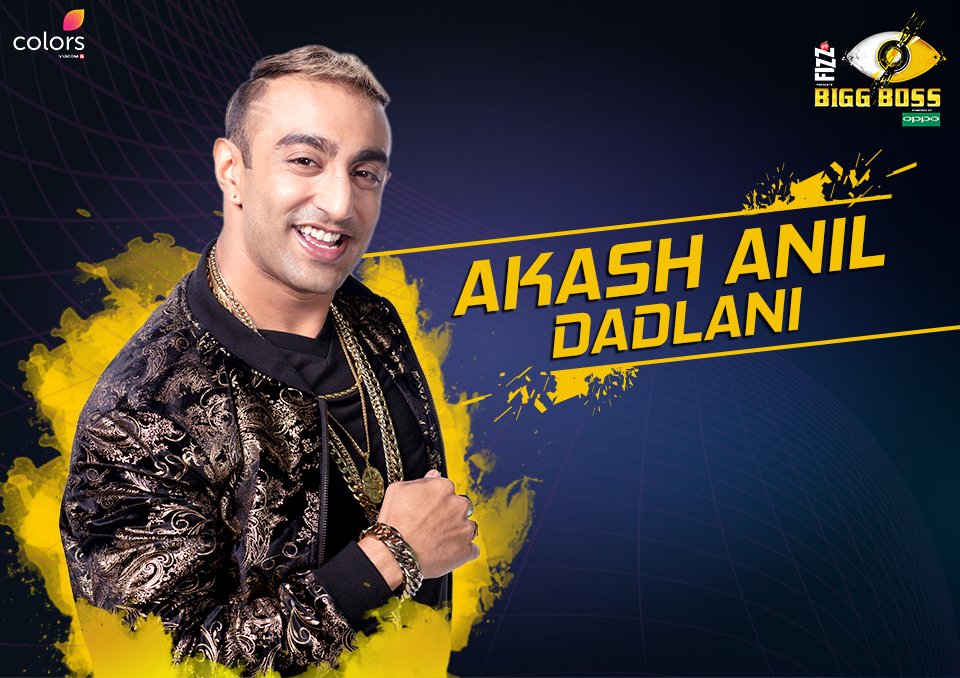 Works, achievements, profile and biography
m Akash Dadlani is a contestant of Bigg Boss 11, a person popular in music industry, a sportsman and a rocking personality. He basically is from USA but Indian born and Indian by heart. See more information about Akash Anil Dadlani, his works, achievements, profile, biography, family and other interesting facts.
Akash Dadlani always had two passions in life tennis and music. He wanted to make a career in either of the two and managed to settle down in music. He is now a popular figure in music business and had worked with famous bands. Meet Brothers is one of those. Akash is a true entertainer, a sportsman who is tough externally but with a soft heart. He is a rapper and can make songs instantly. In Bigg Boss 11 he will be truly a contestant to watch especially in adverse situation. He will making Bigg Boss house musical and we expect more entertainment than quarrels and fights this season due to none other than Akash Dadlani. He is fluent in Hindi but with American accent which will be more entertaining.
Profile, biography of Akash Dadlani, rapper, contestant Bigg Boss 11
Akash Dadlani present status
- He is single at present.
Akash Dadlani age
- His date of birth is on 1993 and her present age is 24 years.
Akash Dadlani address
- He is basically from Texas, USA and resides at Mumbai.
Facebook profile of Akash Dadlani
-
https://www.facebook.com/akash.dadlani
.
Twitter profile of Akash Dadlani
- No twitter account available.
Akash Dadlani educational qualification, family, works, achievements and controversies
Akash did his schooling from Ronald Reagan school and the from Albermarie High sschool. He is a very good tennis player and won many tournaments at the age of 16 in 2009. He wanted to make career in tennis but it didn't worked then he moved to another passion which was music. He moved to Mumbai and made a name in music business. Now he had worked with many stalwarts like Sukhwinder, Mika Singh and Meet Brothers. He is now in Bigg Boss 11 to lift his career ahead.
Akash Dadlani journey in and as Bigg Boss 11 contestant
Akash Dadlani is extra extrovert and will be the show stealer. He will certainly emerge as a entertainer but at times can irritate both housemates and audience. He is also short tempered and can react to any situation without control, which can be a drawback. All the best to Akash.