Milind Gawali shares BTS videos of dancing with co-star Madhurani; says, "we all have Arundhati's and Aniruddha's around us who stand behind their children"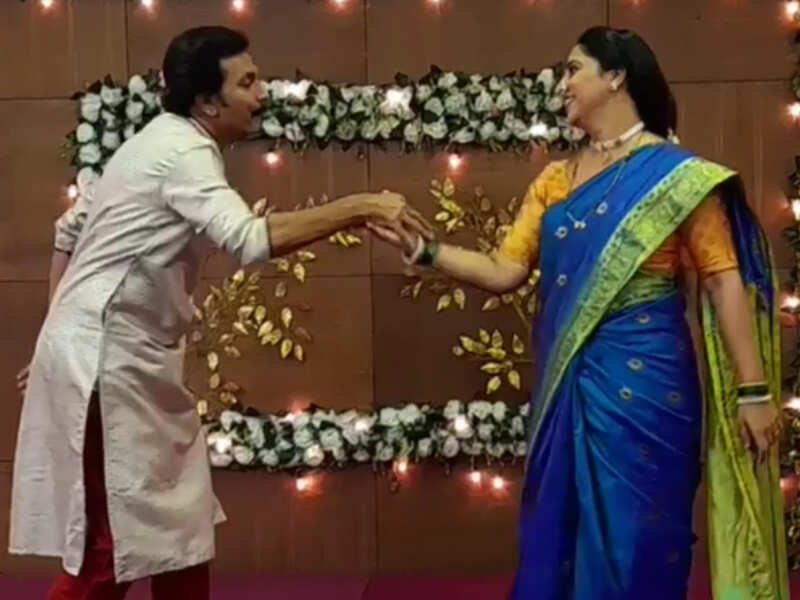 Milind Gawali shares BTS videos of dancing with co-star Madhurani; says, "we all have Arundhatis and Aniruddhas around us who stand behind their children"
Actor Milind Gawali aka Aniruddha often shares lengthy notes on social media about his TV show Aai Kuthe Kay Karte. Recently, the show featured the engagement ceremony of Aniruddha's son which entertained the audience and Milind posted his BTS videos from the engagement sequence where he along with his co-star Madhurani Prabhulkar aka Arundhati can be seen dancing their hearts out.
As per the show's storyline, Arundhati and Aniruddha decided to stay together for their son Abhishek's engagement despite their troubled married life. Milind in his note, mentioned that there are many Arundhatis and Aniruddhas around us who promise to be with their children no matter how their relationship is.
Milind Gawali wrote, "अरुंधती आणि अनिरुद्ध Dancing together,This seems like a dream or unreal, but this is not untrue, it is very much real, the Arundhatiand Anirudha are Dancing together, but the fact is they are Dancing for Their daughter Esha, as they have promised her as Father and mother they both will always be together, how complicated sometimes relationships can be, This is actually the fact of life, many a times it seems the end of relationship and still one has to continue living like normal , as though nothing has happened, the best part of Aai Kuthe Kaay Karte serial is that it represents the lifes of common people, who struggle through life on a day to day basis, Even Anirudha and Arundhati represents the society, you will see Arundhati in every women around you, the strengths, the weaknesses, the determination, the ambition, the spirit of fighting against all odds, the immense love and care for the family, and most importantly the sacrifice for all the loved ones, You would also see Anirudha around you as well, Anirudha is not an alien, he too is very real and So many of them I have seen in my life when they were having big big positions, posts on higher level, they dominated everyone around them, they had the so called Maaz ,
And when they retired , lost their position they became humble, And An affair with his colleague in the office which seemed casual, and which may be was not serious from his side, or may he thought he could easily handle it, and now he realizes that women are much much stronger than he thought, be it Sanjana or even Arundhati, they are too powerful then he could imagine, surprisingly the shock for him was the strength and transformation of Arundhati after the revelation of his affair with Sanjana, Akkk serial sends a very strong message to everyone that men shouldnot take any women for granted and never ever try to dominate her, another great message, Akkk sends, which is very very important that is Success and failure of man always depends on his life partners support, and that even applies NOT ONLY ANIRUDHA BUT to BILL GATES AS WELl"
According to the show's storyline, Aniruddha, has an extramarital affair with Sanjana. Arundhati learns about her husband's affair but she decides to stay with him for the sake of her son Abhishek's engagement.