Bigg Boss evictions aren't through public voting'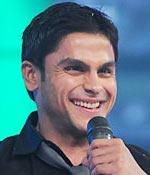 Mahesh Bhatt's son and aspiring actor
Rahul Bhatt [ Images ]
was evicted from
Bigg Boss [ Images ]
last week, and made headlines when he claimed that the reality show was scripted.
He tells
Rajul Hegde
that he was shocked to be evicted so early into the show, and that it was planned as he failed to generate TRPs:
You were not very controversial in the house, and yet you were evicted from the house. Why do you think you were evicted?
I was boring and didn't provide entertainment for the viewers. I can't provide entertainment to viewers at the cost of making a fool of myself. I cannot be what I am not. I am not a monkey like the others. Why would the channel keep me on the show when there was neither a controversy nor a romance linked to me?
I thought I would stay a couple of weeks longer. But when somebody like Seema Parihar has been saved after being nominated thrice and Sara Khan re-entered after being taken out, I realised that it was all being scripted and manufactured to generate TRPs. The evictions are not happening through public voting.
I have no complaints because my eviction is justified. I am glad that I have come out of the fake world (
of Bigg Boss
) into the real world.
Did you enjoy living in the Bigg Boss house?
Yes. It was an unconventional way of
vanwas
(
exile
). I have learnt a few household chores like washing clothes; I am sure my mother will be very happy.
Through this show I have realised that human beings are the most complex of all species. We should study more about human beings in school instead of reptiles (
smiles
)!
Why did you secretly support Dolly Bindra?
I supported Dolly on her being the kitchen captain because we were getting good food. Plus, she is straightforward and says everything on the face. She is not pretentious like the others. The others are so fake; they fall in love for the footage.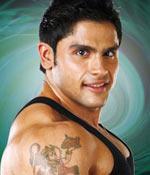 So who is the most fake person in the house?
Veena Mallik. Everything is so fake about her -- from wearing high heels to the way she dresses up. Can you believe she would change her dress six times a day? And she would sleep with make up on.
But I must say you need lot of dedication to be decked up 24/7. She should be given a special award for '
nautanki
' and being most 'fashionable'.
She has shown an interest to enter Bollywood on many occasions but I don't like the fact that she hides it. She tried to get close to me only after she learnt that I was Mahesh Bhatt's [ Images ] son.
Who, according to you, is not pretentious?
Khali, Aanchal Kumar and Dolly are the only 'real' people on the show. I have been a great fan of Khali for years. I got to learn a lot from him.
What was the most shocking element of Bigg Boss?
What can be more shocking than the marriage of Sara Khan with Ali Merchant in
Bigg Boss
? I think all these things are publicity gimmicks.
Who do you think will eventually win?
It's too early to say but the Tiwaris -- Swetha and Manoj -- are playing games smartly. They have a huge fan following. I think they will last till the end.
What prompted you to take part in Bigg Boss?
My primary object was to show the real me. So much was written about me because of David Headley's [ Images ] (
Lashkar-e-Tayyaba operative who was involved in 26/11 terror attack
) acquaintance. It has damaged my character. So I wanted people to be fair and judge me as I am. People have now seen the real me and I am satisfied with the experience.
What next?
I want to concentrate on my career. I want to act in films where I can play a cop or an action hero.