Ad: Ganesh Pottery Shadu Mati / Powder Best for Eco-Friendly Ganesha Idol Making and Sculpting Art Clay (3kg)

Here is the list of Ganesh Visarjan dates in 2021
Ganpati Visarjan after one and half day – 11 September 2021
Ganesh immersion after three days – 12 September 2021
Ganesh Visarjan after five days – 14 September 2021
Ganesh nimajjan after seven days – 16 September 2021
Ganpati Visarjan after ten days – 19 September 2021
Ganpati Visarjan after 11 days – 20 September 2021
Ads:
eCraftIndia Lord Ganesha Idol on Decorative Handcrafted Plate for Home and Car
Ganesh immersion, Ganesh Visarjan 2021 dates. Ganapati Nimajjanam (Vianayaka Visarjan) is the culmination day of 12-day Ganesh Chaturthi or Ganapati Navaratri celebrations. Usually, Ganesh immersion is held on Anant Chaturdashi day. In 2021, Ganesh Chaturthi Ganpati Navratri begins on September 10.
Genrally Ganesh nimajjan is performed on the 3rd, 5th, 6th, 7th or the 10th day of Ganesh Navratri festival.
Ad:
RELEMTRA Paper Fans Decorations Round Pattern Paper Party Fans Party Decoration Materials Party Fans for Decoration Baby Shower/Birthday Party /Wedding/Graduation Events Set of~ 6 (Rainbow)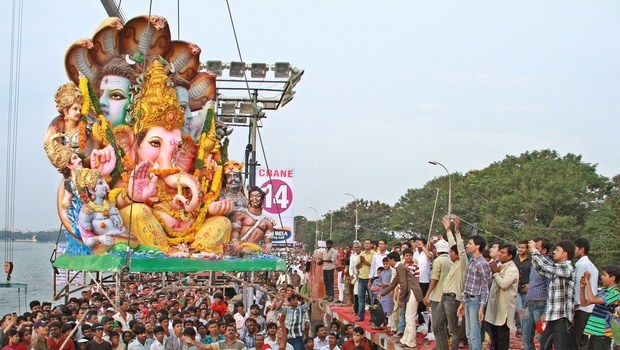 To make the festival more enthusiastic and keep the globe free of pollution, use clay or eco-friendly Ganesh idols. The Ganesha Thathwa (Philosophy of Ganesh worship) teaches the same. We use 21 types of herbal leaves and flowers during Ganesh Festival to worship Lord Ganesh.
Ad:
Logro Pack of 10 Strings Yellow Orange Artificial Marigold Flowers (Genda phool) for Home Decoration, Diwali Dassehra Ganesh Festival Decoration Approx 5 Ft
Read how to do Ganesh immersion… Ganpati visarjan procedure… Ganesh immersion mantras & puja procedure before nimajjanam
Here is the list of Ganesh Visarjan dates in 2021
Ad:Essential Product 5 Layer Golden Electric Diya for Diwali | Deepak Light Lamp LED Light for Home Temple Decor, Office, Festival Decoration, Christmas Made in Indiae, (Pack of 2)



Ganpati Visarjan after one and half day – 11 September 2021
Ganesh immersion after three days – 12 September 2021
Ganesh Visarjan after five days – 14 September 2021
Ganesh nimajjan after seven days – 16 September 2021
Ganpati Visarjan after ten days – 19 September 2021
Ganpati Visarjan after 11 days – 20 September 2021
Final day of immersion or last day to perform Ganesh visarjan is – Anant Chaturdashi– 19 September 2021
In some places, from the day of Ganesh Chaturthi festival, the Ganesha idols are also prepared for immersion. Due to terrorist activities and other security reasons, in 2020, Ganesh immersion throughout India will be performed under tight security of the armed forces.
Video of Ganesh Chaturthi Puja in Hindi
Video of Vinayaka Chavithi Vrathakalpam in Telugu
Video of Ganesh Chaturthi Puja in Marathi
Video of Ganesh Chaturthi Puja in English
Video of Ganesh Chaturthi Puja in Kannada
As per tradition, Ganesh immersion is performed on Anant Chaturthi day, which was September 1 in 2020, September 12 in 2019, September 23 in 2018, September 5th in 2017, September 15 in 2016, September 28 in 2015, September 8 in 2014, September 18 in 2013, September 29 in 2012. In 2011, it was on September 11.