For Kannada audiences, it was a big deal when they learnt that Bigg Boss will have its Kannada version, with Kiccha Sudeep hosting it. Soon thereafter, there were speculations galore on the contestants. From top heroines to politicians and even sportspersons, every name was associated with this show. With the contestants in Lonavala, ready for their 3-month challenge, sans any contact to the world outside, we give you the probable list of 13 names:
Tilak
: The Emraan Hashmi of Sandalwood, a popular baddie in many films, this ladies' man too has entered the house.
Thilak Ľ Filmography
Thilak Filmography
Headlines | Photos | Upcoming Movies | Filmography | Ziddi
Actor
2015 - Mavalli ( Kannada )
2015 - Prema Andhre Sumnena ( Kannada )
2014 - Vaidehi ( Kannada )
2013 - Ziddi ( Kannada )
2013 - Story Kathe ( Kannada )
2013 - I Am In Love ( Kannada )
2011 - Chinnada Thali ( Kannada )
2011 - Kadhimaru ( Kannada )
2009 - Kencha ( Kannada )
2009 - Huchchi ( Kannada )
2008 - Accident ( Kannada )
2007 - Meera Madhava Raghava ( Kannada )
2006 - Ganda Hendathi ( Kannada )
Though T N Seetharam's
Meera Maadhava
Raaghava
has not been greatly appreciated by the critics and masses,
Tilak's
performance in a negative role has gone down well with the audience.
For the 'villain' who has become a 'hero',
Meera Maadhava Raaghava
is only his second film (the first one, also a negative role, was Ravi Srivathsa's
Ganda Hendathi).
But now the young actor, who was a model before he entered the Kannada film industry, is in the news for his brilliant portrayal of Raghava.
R G Vijayasarathy
finds out more.
Your performance in Meera Maadhva Raaghava has been well appreciated. How do you feel?
I am thrilled and excited.Everyday I get so many messages and calls from lots of people. I don't know how they manage to get my phone number.
It is heartening that many film and television artists who hardly know me are calling and congratulating me on my performance. The reviews were highly encouraging and inspiring, and were like a tonic to me.
I give full credit to the film's director T N Seetharam who guided me and explained the nuances of the character.
How did you get the role
?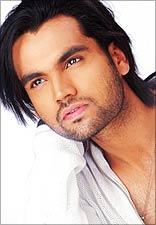 The director was searching for a suitable person to play Raaghava. One day Ravi Belagere Sir called me to his office. I was surprised to see Seetharam Sir also there in his cabin. It was our first meeting. After asking a few questions, he said he would cast me in an important role in his film if it was agreeable with me.
I was in seventh heaven. It is a dream come true for any actor to work in Seetharam's film as he is very well known throughout the state. So, without wasting any time, I agreed.
How was it working with the film's heroine Ramya?
Ramya is a big star and I have learnt a lot from her. She made things easier for all of us by being friendly and humorous all the time.
Do you regret the fact that you could not dub for the film, which may rob you of an opportunity to win many prestigious awards?
I wanted to dub for the film but didn't have the courage to request Seetharam sir to allow me to dub in my own voice.
But, I have no regrets as the best voice in the television industry has dubbed for me.But hereafter, I will definitely dub in my own. I speak in chaste and pure Kannada and am equally good in speaking the
tapori
Kannada too.
How did you get into films?
I was into modelling before I entered the film industry. I was also doing ramp shows. And then I got bitten by the acting bug. I went to Mumbai [ Images ] to undergo a training course in Kishore Namith Kapoor's acting school. After I came back, well known film cinematographer Venu saw some of my photographs and contacted me. He told me that producer Shylendra Babu was searching for an actor to play a negative role in a film (a remake of the Hindi film
******
).
I went to Babu Sir's office and met the film's director Ravi Srivathsa, who chose me. He told me to get ready to go to Bangkok to shoot for the film.That is how
Ganda Hendathi
happened.
What was the biggest compliment you received?
After watching the preview of
Meera Madhava Raghava
, actor-producer-distributor Rockline Venkatesh patted me on my back and said, well done! Writer-Journalist Ravi Belagere, whom I consider my godfather, hugged me. I would say each and every compliment I received is special to me.

Vijay Raghavendra:
Arguably one of the star names in this list of contestants, this actor is a favourite amongst fans and industry persons for his gentlemanly behaviour.
Vinayak Joshi:
A popular podgy child actor, he is now a fitness freak and is looking at a career as a solo hero.
Sanjjanaa:
This *** siren of south films is all set to sizzle in the house we hear, and is even equipped to set the summer all scorching!
Nikita Thukral:
Another ***y belle from south Indian cinema, this Mumbai-based actress, who found herself in the midst of controversies lately, has entered the house.
Chandrika
: This actress, who used to sizzle on screen 10 years ago, is another interesting name that has entered the house.
Shweta Pandit:
She started her career with roles in films like Paramathma and has now moved to becoming a heroine and recently did an item number for Yogaraj Bhat's next production.
Rock the stage!!!!
Anushree
: This popular VJ and host is a friend of many in the industry and is known for her cheerful nature and friendly demeanour.
Nurse Jayalakshmi:
The controversial nurse, whose kissing pictures with politician Renukacharya, has entered the house too.
Aparna
: One of the most well known Kannada news anchors, she has found herself in the list of the final 13, we learn.
Arun Sagar:
This actor-theatreperson-art director is another popular name with industry persons and will be one of the most interesting contestants to watch out for.
Rajesha
: A winner of a reality show on Kannada television, this small town boy has found his fanfare with many households.
After enthralling north Indians with its captivating authentic actions,
Bigg Boss
, last season hosted by
Salman Khan
, is all set to make its
Kannada
version for south audience. South superstar
Sudeep
has been roped in to present the show which is being launched on
ETV Kannada
.
Sudeep, who has been part of Hindi films like
Bhoot Returns
and
Makkhi
also confirmed the news and said, "The show is all about human emotions and isn't formatted. It is a reality show in the truest sense and is spontaneous. I am glad to be associated with it."
Deepak Dhar
,
CEO
,
Endemol India
, says, "We will be incorporating fresh ideas in the regional format based on our observations and learning from the Bigg Brother format globally. We hope to create entertaining content driven by reality in its unadulterated form."
According to source it is too report that the Kannada version will see same house in
Lonavala
, where the last session of Bigg Boss took place in winters. The show is currently roping in inmates and filling initial requirements. It is expected to go on air on this
March
.
Source: TNN

Kannada Bigg Boss contestants revealed